Uncle Nino
(2003)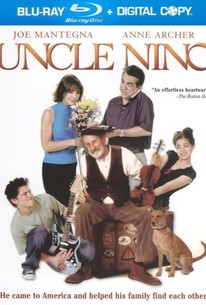 TOMATOMETER
AUDIENCE SCORE
Critic Consensus: Critics say that despite a warm, well-meaning message about the importance of family ties, Uncle Nino is utterly corny and predictable.
Movie Info
A visit from a distant relative teaches a modern family about old-fashioned values in this family drama. Robert Micelli (Joe Mantegna) and his wife Marie (Anne Archer) are a couple living in Chicago with their two children, 15-year-old Bobby (Trevor Morgan) and 12-year-old Gina (Gina Mantegna). The Micelli Family is not as close as it once was; Robert is busy with work as he tries to earn a promotion, Marie has given up on cooking as a hobby, Bobby has started a rock & roll band with his friends and prefers to hang out with them, and Gina wants both a puppy and more attention from her dad. One day, Robert's elderly Uncle Nino (Pierrino Mascarino) arrives for a visit from Italy -- much to the surprise of the family, since Gina misplaced the letter Nino sent to announce his impending arrival. It doesn't take long for Nino to see that he's staying with an unhappy family, and he reaches out to them, reintroducing Marie to her love of good food, teaching Bobby about music, and teaching Gina about caring for pets and enjoying life; however, convincing Robert to spend more time with his family and less time worrying about work turns out to be a tough sell. Uncle Nino initially failed to find a distributor until the film's producers booked it into a theater in Grand Rapids, MI, where the film became a surprise hit playing to steady crowds for over a year.
Critic Reviews for Uncle Nino
Audience Reviews for Uncle Nino
A surprising gem, slow start, but an over all well done character comedy/drama. Yes this type of movie has been done before and is predictable. However the pure charm of the elder Italian Uncle is what makes the film. One of the few family movies that I will have no trouble watching on my own.
Michael Fisk
Okay, maybe this movie is not up-to-date or "entertaining" like other fast movies. But, it was very cute and very good. It was definatly a low-budget movie but they had a wonderful script. A tear jerker :) Uncle Nino is about a small-town old man from Italy that barely knows any English. He's carrying around this guilt inside because he didn't go to his brother's marriage or funeral because he was in jail for stealing something. So, he goes to visit his brother's son and his family to hopefully make him feel better. They're the normal American family, disfunctional and everyone is leading their own lives, without even sitting down to eat dinner together. As the story goes on, Uncle Nino brings everyone together with his love for dogs and music, doing gardening, and understanding nature. At the end, Uncle Nino teaches them what the true secret of life is - relationships.
Jade Tran
½
A marvelous and memorable film about discovering what's really important in the daily lives of an American middle class family torn apart by schedules and worries. Dysfunctional family at first, Uncle Nino (Joseph Mantegna) comes to his American family from Italy to at first just visit but unintentionally straightens things out not by lecturing, but by example and old world habits. Totally disregarded by the professional critics as corny, predictable. While it may be all of that, it doesn't make much of a difference to those not caring for professional tastes. Joe Mantegna does a magnificient portrayal of the Italian long lost uncle who came to dinner, so to speak. Worth watching once or even more, Uncle Nino is a force to be reckoned with in todays rat race society. ********************************** Starring: Joe Mantegna, Anne Archer, Pierrino Mascarino, Trevor Morgan, Gina Mantegna, Duke Doyle, Daniel Adebayo, Chelcie Ross, Gary Houston, Mindy Bell, Ned Schmidtke, Shanesia Davis-Williams Director: Robert Shallcross
monsieur rick
Uncle Nino Quotes
There are no approved quotes yet for this movie.
Discussion Forum
Discuss Uncle Nino on our Movie forum!