Triangle
(2009)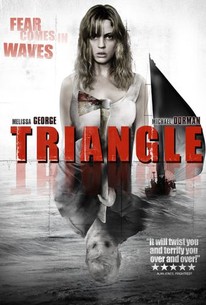 Movie Info
The passengers of a yachting trip in the Bermuda Triangle are struck by mysterious weather and must jump to another ship only to experience greater havoc.
People Who Like this movie also like
News & Interviews for Triangle
Critic Reviews for Triangle
Audience Reviews for Triangle
Twilight Zone meets Groundhog Day as the members of a stranded vessel are saved by a passing ocean liner only to have their situation go unexplainably to hell soon afterwards. It's true that, like a ex-partner, the work doesn't always make sense (and that's one in-your-face let down), but the overall effect is tense enough nonetheless to keep one engaged until the questionable conclusion.
Kevin M. Williams
Super Reviewer
An unusual thriller that deserves credit for its exquisite direction and genuinely oppressive, mysterious atmosphere. But even though the plot seems ingenious and smart, it is in fact too illogical and with so many plot holes that by the end it doesn't really make any sense.
Carlos Magalhães
Super Reviewer
A pleasure boat capsizes during a freak storm and its occupants are rescued by a deserted Ocean Liner inhabited by a mysterious stranger with murderous intent. Triangle is one of those cause and effect paradox stories that science fiction writers are so fond of and reminded me of The Butterfly Effect crossed with Back To The Future 2. Like Twelve Monkeys it obviously owes a debt to La Jetee, but as it concerns itself with the same five characters over the same 90 minute period, it seems far more like small potatoes than Terry Gilliam's film. The premise is simple, having a familiar Twilight Zone feel about it and because of this, once you twig the big twist you know exactly where it's going to go. It's funny, but I feel like I've written this review before...That'll be because it is EXTREMELY similar to Spanish film Los Cronocrimenes released two years earlier. Enough to make me wonder if legal action has been taken. Although "Timecrimes" makes a little more logical sense and requires less in the way of leaps of faith, Triangle's superior production value, more sympathetic lead and superior punchline makes for a better film. Not a bad little mind-bending sci-fi/horror hybrid however, and worth a look if like this type of thing.
Triangle Quotes
| | |
| --- | --- |
| Jess: | I feel like I know this place. . . |
| Jess: | I feel like I know this place... |
| | |
| --- | --- |
| Jess: | Please, help, somebody help. There all dead, she killed them all. |
| Sally: | Please, can you hear me? Please, please help me. She's killing everyone. They're dead, they're all dead. |
| | |
| --- | --- |
| Jess: | "Kill them, you have to kill them! It's the only way to get home! Kill them!" |
| Jess: | Kill them, you have to kill them! It's the only way to get home! Kill them! |
| | |
| --- | --- |
| Jess: | Downstairs right now is a copy of myself. Me! Walking and talking with Greg. |