Anita O'Day: The Life of a Jazz Singer
(2007)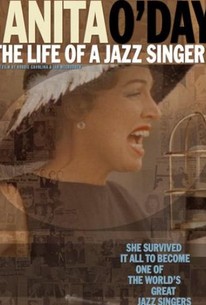 TOMATOMETER
AUDIENCE SCORE
Critic Consensus: This rich documentary chronicles the highs and lows of one of the medium's finest singers, utilizing remarkable archive footage and insightful interviews with O'Day herself.
Anita O'Day: The Life of a Jazz Singer Photos
Movie Info
Before her death in November 2006 at age 86, Anita O'Day, one of jazz's most complex and rhythmic vocalists, smiled on the music world for six decades. This film portrait captures all the magic that took this sly Chicago native, a white girl who could hold her own against Billie and Ella, from Gene Krupa's bandstand to solo stardom. Film footage of Anita O'Day's appearance at the 1958 Newport Jazz Festival, immortalized in the 1960 documentary Jazz on a Summer's Day and excerpted here, may be the defining moment of the post-bebop era.
News & Interviews for Anita O'Day: The Life of a Jazz Singer
Critic Reviews for Anita O'Day: The Life of a Jazz Singer
Audience Reviews for Anita O'Day: The Life of a Jazz Singer
Fascinating documentary on a great jazz singer who should be more well known. It was a tough life for Anita but the pluck which saw her through many hard times, some admittingly of her own making, is showcased front and center by reminiscences from the lady herself and backed by the people who either knew her when or admire her now.
½
[font=Comic Sans MS]"[/font][font=Century Gothic]Anita O'Day - The Life of a Jazz Singer" is a breezy and insightful documentary about the legendary jazz singer. Her life had more than its share of ups and downs including two marriages and a 15-year heroin addiction which she survived, living to the age of 87.(I don't know why jazz musicians suffered so much from drug addiction but maybe it had something to do with the freedom that the music gave to their lives during a very conformist period. At a certain point, freedom cuts both ways...) Thankfully, all of that is simply touched on. What the documentary is mostly interested in is her professional career, as she moved from larger to smaller bands, giving her much more room for improvisation. Along with interviews she gave before she died in 2006, her story is told by experts and her contemporaries. And that is where this film stands out by explaining her vocal talents and where she places alongside other great jazz singers, one commentator explaining her voice was like another instrument of the band. The footage of her singing, especially the famous performance from the Newport Jazz Festival seen in the concert film, "Jazz on a Summer's Day," testifies to this.[/font]
[size=3]The new documentary "Anita O'Day: The Life of a Jazz Singer" taught me a lot. I'm embarrassed to say this, but I had never heard of Ms. O'Day. Now I know that she was a jazz legend from the 1950s through to the 70s. Jazz aficionadoes consider her one of the great vocalists, right up there with Billie Holiday, Ella Fitzgerald, and Sarah Vaughan. [/size] [img]http://www.cinemavillage.com/chc/cv/images/movies/1313.jpg[/img] [size=3]I also didn't know what a radical she was. The first uproar she caused was in the 1940s, when she became the first white female to sing a duet with a black man as part of an ongoing nightclub act. (The song, "Let Me Off Uptown," became quite popular.) She was also one of the few white artists ever to play the Apollo Theater in Harlem. [/size] [img]http://www.swing-time.fr/Img_Artistes/AnitaODay.jpg[/img] [size=3]A national scandal followed soon thereafter when O'Day was arrested for smoking marijuana and sent to prison for several months. Not several days, several [i]months[/i]. It is shocking to me that jazz musicians were sent to prison for smoking a joint! [/size] [size=3]O'Day's bad-girl reputation only grew in the 1950s when she started using heroin. [/size][size=3][b]Move over Janis Joplin; Anita O'Day was there first.[/b] Most Americans believe that the first serious rebellion against conservative mores came with advent of rock and roll. Hardly. It all began with jazz. An important service that documentaries like this provide is to correct popular misconceptions about history. The history of American radicalism cannot be written without jazz.[/size] [size=3][img]http://i.pbase.com/o6/77/742677/1/74960036.2wqTUOxt.AnitaODayAnita379557.jpg[/img][/size] [size=3]This Anita O'Day documentary is entertaining, informative, and important, but it is also highly conventional. The filmmakers have as much style as the squares who arrested O'Day for smoking pot. Documentary filmmakers in America seem to have no cinematic sense. "Man on Wire," a British documentary also playing in Manhattan art houses at the moment, runs circles around "Anita O'Day" in terms of directorial creativity.[/size] [size=3]The complete lack of filmmaking art forces me to bring down the film's rating to a 6, which is a shame. An artist like O'Day deserved a screen treatment that matched her creativity.[/size] [img]http://www.buyemilymusic.com/files/1842440/uploaded/cdessential64.jpg[/img]
William Dunmyer
Super Reviewer
Anita O'Day: The Life of a Jazz Singer Quotes
There are no approved quotes yet for this movie.