Art & Copy
(2009)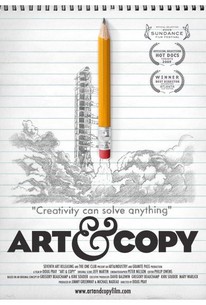 Movie Info
"Art & Copy" is a powerful film about advertising and inspiration It reveals the work and wisdom of some of the most influential advertising creatives of our time -- people who've profoundly impacted our culture, yet are virtually unknown outside their industry. Exploding forth from advertising's "creative revolution" of the 1960s, these artists and writers all brought a surprisingly rebellious spirit to their work in a business more often associated with mediocrity or manipulation: George Lois, Mary Wells, Dan Wieden, Lee Clow, Hal Riney and others featured in "Art & Copy" were responsible for "Just Do It," "I Love NY," "Where's the Beef?," "Got Milk," "Think Different," and brilliant campaigns for everything from cars to presidents. They managed to grab the attention of millions and truly move them. Visually interwoven with their stories, TV satellites are launched, billboards are erected, and the social and cultural impact of their ads is brought to light in this dynamic exploration of art, commerce, and human emotion.
News & Interviews for Art & Copy
Critic Reviews for Art & Copy
Audience Reviews for Art & Copy
½
This doc turns its camera, early in its run time, on a young man who's family has worked putting up highway billboards for several generations. He admits he does not know anyone who makes advertisements and then the film seems to forget him. My wife was assigned to watch this by her television promotions and advertising department. It is a mixed bag of talking heads giving bits of history and insight at varying levels of engrossment. I was most interested in those who talked about innovations in combining graphics (art) and print (copy). The few super bowl ads that are highlighted and how they came to be were also lots of fun.
Byron Brubaker
Super Reviewer
A bit dry, and a bit inside, but this is a film for ad geeks that focuses on advertising since the big change: the day that art directors and copy writers started collaborating to produce not just ads, but the ideas behind the ads. It used to be that writers would write their copy, then send it to the art directors, who would lay it out. The new model has resulted in the creative pairing most agencies now use: one art director, one copy writer, and with any luck, one good ad. This approach has had such success that it has even moved into the newspaper world, more or less killing layout departments and resulting in software for "page ownership", which turns the copy editor into an editor, photo editor and layout artist all at once, as in the end they produce one vertically integrated page. This is the insight I took away from the first half-hour, and the bit about newspapers is me applying that insight to my own past work experience. After thinking through this, I watched the film alternate between self-congratulatory interviews with the creators of major campaigns - for VW Beetle, MacIntosh, Air Jordan and other products - and disembodied stats about how many ads we all see in a day, lifetime etc. An interesting series of anecdotes that lets you inside some big industry brains and even bigger successes, but you have got to LOVE advertising to really enjoy this one.
Daniel Perry
Super Reviewer
½
Interesting look at advertisement, messages. Not so much design, but more about the story behind it and how they thought outside the box to develop an innovative message.
Matt Spencer
Super Reviewer
Art & Copy Quotes
There are no approved quotes yet for this movie.