Triangle (Tie saam gok)
(2007)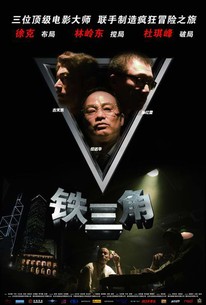 Triangle (Tie saam gok) Photos
Movie Info
Three maestro Chinese action directors - Ringo Lam, Tsui Hark and Johnny To - co-helm the adventure saga Triangle. The film actually constitutes a film serial, divided into thirds, with each filmmaker responsible for one episode. Three drinking buddies, Fai, Sam and Mok are visited one dark and stormy night by a strange old man who dazzles them with the tale of an ancient treasure. The artifact in question - worth untold amounts of money - lies buried beneath an almost impenetrable government facility. The retrieval mission is theirs, if they wish to accept it, and if they can claim the treasure, they get to keep it. Indeed, the "loot" - a magnificent robe of interwoven golden strands, its monetary value inestimable - outstrips everyone's expectations. But in time, the friends' greed and selfishness begin to overshadow their considerations of loyalty, trust and friendship. ~ Nathan Southern, Rovi
Critic Reviews for Triangle (Tie saam gok)
Audience Reviews for Triangle (Tie saam gok)
Triangle is such an appropriate title for this Hong Kong crime thriller. It isn't just because the story revolves around 3 friends, but more that this film is directed by Tsui Hark, Ringo Lam, and Johnnie To.
Each of the aforementioned directors directs a 30 minute segment of this 90 minute picture. Tsui Hark begins it off by dishing out the characters, relationships, and story lines in an erratic manner. This isn't surprising. Sure, there is a bit of confusion here, but there is enough going on to hold one's interest.
Ringo Lam steps in for the middle portion and does a good job at settling things down and clearing things up. The story advances at a slower pace and it sets everything up for the finale.
The last 30 minutes, helmed by Johnnie To, is the best part of the film. He is able to wrap everything up by bringing all the major characters together and putting on one of his trademark shootouts, which is the biggest action sequence of the film.
All the actors are no strangers to this genre. Simon Yam, Louis Koo, and Honglei Sun carry this picture with help from Ka Tung Lam and the beautiful Kelly Lin.
Triangle does have a shaky start, but the film gets better with each director change. Fans of Hong Kong crime thrillers will want to take a look at this one.
½
Maybe it was me, but i didn't feel that this worked well. I won't blame the direction, which is quite fine except the first act, the script is full of characters, sub-plots and a lot of stuff that goes on and off for no real reason. The cast is great, and Suet Lam almost steals the whole thing. But i never cared about the characters, and neither i felt that they were in any danger until the final part. Making a movie with 3 directors of this caliber should have been something else, but the script was written by....six people? Now that sounds like too much hands for such a medium dish. All that said, it's good to see the HK industry willing to experiment a bit instead of trying to make another Infernal Affairs or some crap with canto-pop idols. Hope that they can nail it the next.
Tsubaki Sanjuro
Super Reviewer
The plot itself is not amusing, or stylistically clever in the first place But its thanks to the creative talents of the three directors, that help save this movie from total boredom.
Caius Chung
Super Reviewer
Triangle (Tie saam gok) Quotes
There are no approved quotes yet for this movie.