Teenage Dirtbag
(2009)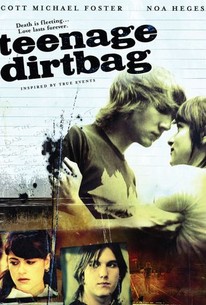 AUDIENCE SCORE
Critic Consensus: No consensus yet.
Movie Info
"Teenage Dirtbag" tells the story of a popular high school cheerleader who is harassed by a delinquent classmate until they are both placed in the same creative writing class. Through written words, they develop a strong bond of trust, companionship and love; but is it a bond that can withstand her elitist social pressures and his brutal home life?
Critic Reviews for Teenage Dirtbag
There are no critic reviews yet for Teenage Dirtbag. Keep checking Rotten Tomatoes for updates!
Audience Reviews for Teenage Dirtbag
A story based on true events which is going to hunt your thoughts and make you have twisted feelings .The intense is massive between the basic characters and the end is not making things really clear so I suggest you to watch it with company and discuss about it later . I know what you are going to say " Oh no, not again a chickflick movie with obvious script" just like I said at the very beggining, but let me tell you this,i was so wrong !
Eliza Norton
Super Reviewer
½
A film about teenagers that comes closer than most to reality, Teenage Dirtbag is explicit, violent, and very very strange. This is yet another tale of the rich girl, and the guy from the wrong side of the tracks becoming weirdly co-dependent. I always wondered how Bender and Claire turned out at the end of The Breakfast Club, and I finally have my answer. The only difference is that they seem to be two ships passing in the night, without ever really being romantically entangled. Yes, there is an obvious emotional response in the character of Thayer, an abused and scarred boy who has the fortune of becoming friends with cheerleader Amber, a studious and yet rebellious senior on the brink of self annihilation. Dirtbag jumps in time frequently to reveal factoids concerning the buildup to a very odd end. No spoilers, but you should know that there are spoilers within the film itself. Once the cat's out of the bag, it's not as much fun to watch. The atmosphere, relationship between the characters, and the overall uneasiness of watching Thayer's volcanic rage was very intense, but without a decent payoff or an ending that makes sense, this film lost me in the shuffle.
Spencer S.
Super Reviewer
½
Kind if an odd, and interesting film. I have a love hate situation with movies that leave you hanging on the edge of a cliff like this movie did..but all in all I liked it. What a great story about teens, though (and based on a true story, apparently). Which side are you on? are you a greaser? or a socialite? Would you try and cross that line for love, and how would you express it if you didnt know how?
Cynthia S.
Super Reviewer
Teenage Dirtbag Quotes
| | |
| --- | --- |
| Pops: | Thayer (To Amber):"Your face brings me death every day and every day I can't wait to die" |
| Thayer: | [to Amber] Your face brings me death every day and every day I can't wait to die. |
| | |
| --- | --- |
| Thayer: | (shouts) No, It was only 5 seconds ago, Right ? 1.. 2.. (whispers while holding Amber) 3.. 4.. 5.. (Amber hugs him) |
| Thayer: | [shouts] No, It was only 5 seconds ago, Right ? 1.. 2.. [whispers while holding Amber] 3.. 4.. 5.. [Amber hugs him] |