Breaking Point
(2009)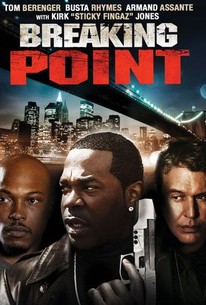 Movie Info
Steven Luisi, a once prominent criminal defense attorney, is attempting to come back to the profession after a struggle with drug addiction and a family tragedy. Steven stumbles into a complex, high profile murder case, which will eventually lead him down a path that brings him face to face with his own demons. While trying to solve the case Steven teams up with an ex-athlete turned gang member, Richard "Beanz" Allen. With Allen's help, Steven discovers that there are deep connections between a corrupt police department and a vicious Gang leader called Bowen who's Steven's old drug dealer.
Critic Reviews for Breaking Point
Audience Reviews for Breaking Point
½
Pretty decent courtroom/crime drama with two underrated stoic actors....Tom Berenger and Armand Assante, both of whom give nice performances in their respective roles as the obvious goodie and baddie, I don't think I need to say who was who. This kind of plot and film has been done many times before and allot better than this but this is still a good film for what its worth and does give you some nice dramatic moments of emotion with tense strong scenes of violence. The film looks good and its directed well with a real sense of purpose and care with its creation, the characters are abit cliched and boring and it is kinda predictable but its still entertaining thanks to the cast doing well. Along the same lines as 'Brooklyn's Finest' in terms of looks and scope with plenty of corruption, deceit and double cross but not quite as good as the said film, worth a look if you like abit of courtroom n gangster jazz :)
Phil Hubbs
Super Reviewer
Breaking Point Quotes
There are no approved quotes yet for this movie.