2 Days in New York
(2012)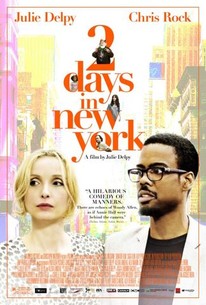 TOMATOMETER
AUDIENCE SCORE
Critic Consensus: 2 Days in New York breezes past its shortcomings thanks to an enjoyably madcap plot and the sweet chemistry between its well-matched stars.
2 Days in New York Photos
Movie Info
Hip talk-radio host and journalist Mingus (Chris Rock) and his French photographer girlfriend, Marion (Julie Delpy), live cozily in a New York apartment with their cat and two young children from previous relationships. But when Marion's jolly father (played by Delpy's real-life dad, Albert Delpy), her oversexed sister, and her sister's outrageous boyfriend unceremoniously descend upon them for an overseas visit, it initiates two unforgettable days of family mayhem. The visitors push every button in the couple's relationship, truly putting it to the test. How will the couple fare. . . when the French come to New York? -- (C) Magnolia
People Who Like this movie also like
News & Interviews for 2 Days in New York
Critic Reviews for 2 Days in New York
Audience Reviews for 2 Days in New York
Not as layered, romantic, or leisurely as "2 Days In Paris." The comedy depends too much on culture clash jokes that don't satirize or reveal anything true or false about the respective cultures, and Chris Rock is uncharacteristically bland as he takes the brunt of well-intentioned racist observations that just kinda fall flat. Albert Delpy, Julie's real-life father, has a twinkling joie de vivre, and it's always nice to see German wunderkind, Daniel Brühl. The screwball Woody Allen-esque hijinx pick up after Marion's performance art piece of selling her soul to the highest bidder despite not believing in the soul, her subsequent entreaty to one Vincent Gallo, the buyer, to give it back, and her adorably neurotic distress over Gallo having eaten her soul. Julie Delpy is seriously balls-to-the-wall nuts, but she is also simply fantastic.
Alice Shen
Super Reviewer
"The movie is pretty funny if you have a dark sense of humor. It's raunchy, dysfunctional, and at times, weird. But it all works for this film. I laughed out loud and had a good time watching it. The sister relationship is quite comical. It's like when their together they automatically go back to being bratty teenagers. The Dad is my favorite character. I can't believe some of the stuff he says. He has no filter and is kinda creepy. But he's also lovable in an odd way. The scenes with Marion's father and Mingus sometimes get super awkward. I especially loved the part were their in the kitchen together and Mingus is making her dad coffee. The gown plus the Indian feathered headset and the weird tickling attack is just some awkward fun. I really liked the movie. I would definitely see this again."
♥˩ƳИИ ƜѲѲƉƧ♥
Super Reviewer
A hilarious comedy of manners. Good witty movie! Some scenes made me laugh so hard. Everyone who has been in relationships with someone from another country will definitely appreciate this movie. Finally, this movie is so New Yorkish that it makes it impossible not to like it! The best way to describe this is as a Woody Allen type movie (Woody had nothing to do with this) but that is the feel that it has. The comedy and humor is very offbeat but funny. The dialog in many places is witty and carries the movie. I have to say that this is a strange movie to see Chris Rock in, he does do a good job though, but it's still weird. The movie is pretty good, but the ending got a little bizarre. This is still basically a movie about crazy in-laws but it is pretty funny and worth seeing. Overall, if you are a fan of Woody Allen then you will probably like this movie. Marion (Delpy) has broken up with Jack (Two Days in Paris) and now lives in New York with their child. But when her family decides to come visit her, she's unaware that the different cultural background held by her new American boyfriend Mingus (Rock), her eccentric father, and her sister Rose who decided to bring her ex-boyfriend along for the trip, added to her upcoming photo exhibition, will make up for an explosive mix.
2 Days in New York Quotes
| | |
| --- | --- |
| Mingus: | They're doing something freaky with my toothbrush! |
| | |
| --- | --- |
| Mingus: | Would your dad ever key a car? |
| | |
| --- | --- |
| Marion: | I'm going to be 38, I'm fat, I'm a pain in the ass. |
| Mingus: | But you're French... |