2-Headed Shark Attack
(2012)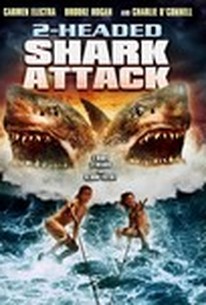 AUDIENCE SCORE
Critic Consensus: No consensus yet.
2-Headed Shark Attack Photos
Movie Info
Brooke Hogan and Carmen Electra go head-to-head in this spectacular sci-fi creature horror about a sea ship inhabited by college co-eds, which is eventually sunk by a mutated two-headed shark. The survivors eventually manage to escape to a deserted island, but when it starts flooding, 'they no longer safe from the double jaws of the monster.'
Critic Reviews for 2-Headed Shark Attack
Audience Reviews for 2-Headed Shark Attack
How is it that more people aren't talking about what is almost certainly the worst affront to the Killer-Shark-Creature-Feature genre? Don't get me wrong, there was absolutely no redeeming 2-Headed Shark Attack, it was awful, absolutely, but when in the climax of the whole thing, the animators FORGOT IT WAS SUPPOSED TO HAVE TWO HEADS, I went ballistic. I seriously had to rewind, because I thought, even in a movie this atrocious, they couldn't make that mistake, I mean, it's in the title of the movie, it's not possible... But not, they did. They replaced it with a regular shark model...
Possibly one of the worst films that came out of 2012, you've got some issues if you managed to finishing watching this film without the symptoms of blindness and nausea. Basically a bunch of Jersey Shore characters went on a boat trip and encounter a double headed shark, then it follows the conventional horror film formula. The acting was non-existent, literally, everyone was reading lines, the camera followed the characters as they read lines... The boat was way over occupied by the characters, they even have to stand up... All the characters were annoying, the black chick was the most stereotypical, the screaming girls were just retarded, the hunks were absolutely the worst. I can't express how bad this film really is, Christopher Ray should be sentenced to death penalty.
Sylvester Kuo
Super Reviewer
½
Two heads are better than one is the thinking behind this latest effort from The Asylum Studios. It's as bad as you would expect from the studio who gave us titles like "Mega Piranha" and "Transmorphers". The CGI is particularly dire in this one and in some shots it seems like they forgot to add in the second head on their creature. Most of their previous productions have been pretty kid-friendly, hence their popularity with the SyFy network, but with this one they've gone for a more adult approach. We get nudity, lesbianism, and some extreme gore. It's a lot more nihilistic than you may expect from such a jokey concept and most characters meet a bloody end. It seems everyone involved is related to someone more famous than themselves. The director is the son of eighties schlock king Fred Olen Ray, O'Connell is the brother of "Piranha 3D" star Jerry O'Connell, and Hogan is the daughter of wrestler Hulk Hogan. The closest to a star is Electra but her role mainly consists of sunbathing montages. If The Asylum dumped the cheap CG for old school rubber monsters and employed some wittier writers their movies may live up to their titles. They may claim that their sole aim is to make "six-pack" movies but you need something a lot stronger than beer to get through most of their product.
The Movie Waffler
Super Reviewer
2-Headed Shark Attack Quotes