2LDK
(2002)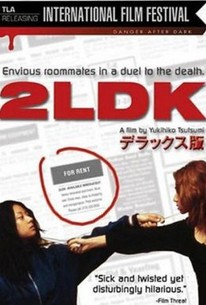 Movie Info
2LDK is part of the "Duel Project," in which super-efficient directors Yukihiko Tsutsumi and Ryuhei Kitamura (Versus), who had both worked on the anthology Jam Films, were each challenged to take one week and make a feature with two actors dueling in a single setting. Kitamura wrote and directed the samurai film Aragami, while Tsutsumi created the urban warfare story 2LDK. The title is an abbreviation, as one might see in a Japanese classified ad, for a two-bedroom apartment with a living room, a dining room, and a kitchen. In 2LDK, Nozomi (Eiko Koiki) is a quiet, compulsively neat country girl who has recently moved to Tokyo in hopes of beginning a film career. Her roommate, Lana (Maho Nonami), is also an actress, but she's been at it for a while. She's brash about using her sexuality to get what she wants, while Nozomi is repressed. The personal space issues that afflict every roommate situation are exacerbated by their wildly different temperaments. While Lana is racked with guilt over a past indiscretion that ended in tragedy, Nozomi is used to being a big fish in a small pond, and has trouble dealing with the pressures of big-city life. When they learn that they're up for the same part in a big film production, the tension mounts. Lana pushes Nozomi's buttons by implying that she's been intimate with a mutual acquaintance she knows is courting Nozomi. Nozomi, who diligently marks nearly every item in the apartment with the first initial of its proper owner, lashes out when she discovers that Lana has used her shampoo, and things gradually escalate from there into an all-out, kill-or-be-killed war.
Audience Reviews for 2LDK
Two female Japanese flatmates, who happen to be competing for the same acting role and boyfriend, see their rivalry boil over into one hell of a cat-fight! Highly entertaining with dark humour and a bit of comical brutallity. The first 35 minutes introduces the characters and builds up the tension between them, then the rough stuff starts which begins with a bit of bitch-slapping then moves into no-holds-barred territory where chainsaws and samurai swords are preferred. Not as bloody as I was expecting it to be though, but still pretty violent. Really enjoyable, destined to be a cult favourite!
½
So the next film that I am watching is 2LDK (2 bedroom, living room, dining room, & kitchen) from Japan. It showed up on a list that i a using for horror movies but there is nothing that really screams scary for me here. 2 roommates that hate each other fight for 70 min. Not just fight but they literally beat the living crap out of each other with various items thorough out the house. There was a Chainsaw and i do like seeing those used in "Scary" films. I really didn't like the movie though, it is pretty cool that they filmed the whole thing in an apartment. It wasn't enough, there needed to be more and i think that the back story was pretty weak. Fancy camera work and blood are not enough to elevate this movie up the Scareometer. 3.5/10 Find another J-Horror movie Sid
Brandon Siddall
Super Reviewer
With some actresses I know, this could be considered a documentary.
Anthony Valletta
Super Reviewer
2LDK Quotes
There are no approved quotes yet for this movie.