301, 302 (301/302)
(1996)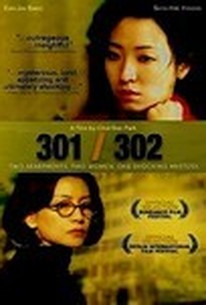 301, 302 (301/302) Photos
Movie Info
This Korean horror movie offers a feminist twist in that it centers on two female protagonists living next door to each other in a high-rise apartment building. The title refers to their respective apartment numbers. The story opens as one of the women, a compulsive cook, is being questioned about the mysterious disappearance of her neighbor, the other woman, a traumatized writer suffering from anorexia nervosa. The two meet when the friendly cook tries to give the writer some of her newest creation. The writer later throws the food away. Still, a friendship is born, and as they converse, the tragic reasons for the writer's condition come to light. Dark secrets from the cook's past are also revealed. It is she who offers up the grisly final solution to the writer's guilt and continual pain. ~ Sandra Brennan, Rovi
Critic Reviews for 301, 302 (301/302)
Audience Reviews for 301, 302 (301/302)
"301, 302" starts with a detective coming to apartment #301 to ask Song-hee(Eun-jin Bang) if she has any idea what happened to Yun-hee(Sin-Hye Hwang) who lives in #302 and has apparently disappeared. At first, what she does know could fill a pamphlet, arriving after a divorce and after Yun-hee was already living in the building. So, while Yun-hee lived a quiet life amongst her books, that is disrupted by Song-hee building the perfect kitchen in her own apartment. She uses that new kitchen to cook all sorts of exotic dishes, keeping a journal of them. She even shares some of them with her neighbor who sadly cannot enjoy them. "301, 302" is a movie that definitely sets out to shock but instead is just going to have to settle for disquieting. A lot of that comes from a middling execution, especially tipping its hand much too early. Too much time is spent reliving the obvious details of Song-hee's marriage when instead it could have rather developed the relationship between the two women. On another level, the movie sort of wants to have something to say about women's roles and body issues. And excuse me for being literal but does Yun-hee not eat at all? If so, how does she remain active?
301, 302 (301/302) Quotes
There are no approved quotes yet for this movie.