35 Up
(1991)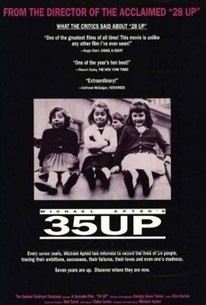 Movie Info
In 1963, director Michael Apted and then-partner Paul Almond chronicled the lives of 14 seven-year-olds for British television; they returned to the same group at intervals of seven years for updates, of which this is the fifth. It's possible to watch this film without having seen the other chapters (28 Up and 42 Up are the only other installments in circulation), because Apted offers thumbnail flashbacks with each interview. Several of the original subjects declined to be filmed for 35 Up (the film acknowledges them with reference to their most recent appearance in the series), and several others express ambivalence about participating. Two trios of friends from the original film -- John, Andrew, and Charles, and Jackie, Lynn, and Sue -- are interviewed collectively; the women seem to be still close, but it's not clear if the men are. Most of the subjects are married and raising children (and most have moved from London to the suburbs or the country); there are a few divorces, and one woman has chosen to be a single parent. The film saves its most fascinating figure, Neil, for last. In 28 Up, he was a university dropout, living a nomadic existence on the coast of Scotland. In the present film, he has moved to the Shetland Islands, where he's involved in local theater and taking medications for his psychological illness.
Audience Reviews for 35 Up
Perhaps I should review Apted's series in its totality but each of these films has their uniqueness and charms. This one is no exception although some of the children who were originally filmed in 1963 declined to be in this and subsequent series. Lives are falling a bit apart for our subjects. All the more reason to get updated in 42 Up.
John Ballantine
Super Reviewer
This series is great. Well worth watching from the start, but maybe with a few month's worth of rest between each film (unlike what I did) otherwise the flashbacks get a bit much. By 35 up I was starting to feel like it was all flashback and no current footage.
Angela Alcorn
Super Reviewer
We see one of the "kids" come back that had chosen not to participate in the last installment and two more drop out without a word. So we have lost three total at this point. It's a weird thing to see these films one right after the other as the idea that so much time has passed for these people is hard to wrap my mind around. It's easy to be lost in the thought that these are not real people but characters in a movie. They are just really good at casting young people that look like the older people. The fact that we get to see the span of these lives is something rare in cinema and I don't think people should miss out on this. Ask yourself some of the questions they get asked and see if you are not any different from some of them. Another thing we get a look at are the marriages. In the last installment we saw most of them married and some even having kids. In this one we get to see if the marriages survived. Some did... some didn't. The year is 1990 and we are soon going to be in a very modern setting and I still am wondering where the folks will be as the tech and society takes the big leap that is coming soon.
Jason Spencer
Super Reviewer
35 Up Quotes
There are no approved quotes yet for this movie.