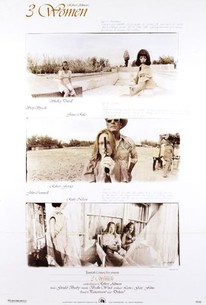 3 Women
1977, Drama, 2h 5m
33 Reviews
5,000+ Ratings
What to know
critics consensus
3 Women is a strange, eerie portrait of late-'70s womanhood that upends and then defies all expectations. Read critic reviews
Where to watch
Rent/buy
Rent/buy
Rent/buy
Rate And Review
Movie Info
Writer/director Robert Altman claimed this impressionistic film came to him in a dream. Millie Lammoreaux (Shelley Duvall) considers herself irresistible to men, though in fact men have little trouble resisting her. Mysterious teenager Pinky Rose (Sissy Spacek), Millie's fellow physical therapist at a desert spa who becomes her roommate at a singles-only apartment building, at first appears worshipful of Millie's self-confidence but soon seems to be taking over aspects of her personality.
Audience Reviews for 3 Women
Dreams are essential to life. Accept the fact that dreams have no absolute meaning and apply that reality to movies like 3 Women. Movies like this one are essential to our cinematic life.

"An awkward young teen working at a spa becomes overly attached to her fellow worker, a lonely outcast. They hang out at a bar owned by a strange pregnant artist and her has-been cowboy husband. Amid emotional crises, the three women steal and trade one another's personalities." - Do they? Do they though? With less than ten minutes remaining the 3rd of these 3 women gets her first line. And some of those minutes was credits. Now a poorly written logline is unlikely to be the fault of the movie itself, but it does kind of make me question why the movie's even called 3 Women. Decent chance I'm just not bright enough to understand it, let alone the movie itself for that matter, but I can only bring you a review from how I experienced it, and from that perspective I can say: It's alright. A lot of the style choices did aggravate me, most notably the music (I've suffered through much worse for far less with this subject, but it was still a negative to me). But the two lead performances are what the movie is predominantly hinged on, and both are pretty good. Not incredible, but pretty good. I know not adoring this puts me in the minority, but I feel like a lot of people nowadays tend to overvalue a film for no other reason than the fact that it was made before... like... 1987. That's never been a factor for me, and 3 Women honestly didn't do a lot for me.

3 Women is wonderfully strange. Inspired by a dream, it flows like one with Sissy Spacek plays a once in a lifetime role.

Wide-eyed Pinky (Sissy Spacek) latches onto delusional Millie (Shelly Duval) until an accident causes a radical personality shift. Fascinating, subtly unnerving psychological mystery that provides a bridge between PERSONA (1966) and LOST HIGHWAY (1997).
See Details