47 Meters Down
(2017)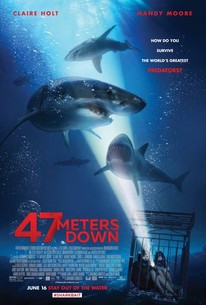 TOMATOMETER
AUDIENCE SCORE
Critic Consensus: 47 Meters Down doesn't take its terrifying premise quite as far as it should, but its toothy antagonists still offer a few thrills for less demanding genre enthusiasts.
Movie Info
Two sisters vacationing in Mexico become trapped in a shark cage on the ocean floor. As their oxygen starts to run out and with great white sharks circling them, the sisters must find a way to get to the surface alive.
News & Interviews for 47 Meters Down
Critic Reviews for 47 Meters Down
Audience Reviews for 47 Meters Down
47 Metres Down should've been titled "47 Reasons Why This Disaster Will Make You Feel Down". It's not often a film so bad irritates me, but perhaps once a year there is always one. I'm confident in saying that this...this...abysmal piece of pure soul drainage takes the title. So what's good about this? The underwater cinematography was pretty decent, from what we could actually see it looked good. The ending was ballsy, so I give credit for the sheer bravery (even if it leaves a bad aftertaste). Ummm what else...I liked the tropical fish? Seriously though, this was horrible. The worst crime that this film makes is the expositional script. "My bar is at 50, I'm running out of air", "I'm going to grab the winch", "I'm coming to get you Kate, I'm coming, on my way Kate, stay there...I'm coming...", "I'm lost, I can't find you...I'm going to need to calm down"...I physically could not take anymore of it!? We get it, we as the audience are dumb, so thank you for spoon feeding us every damn action that our characters make. Thank you. You might as well get them to say "I'm swimming". It gets worse, Kate somehow becomes a shark expert! "Sharks attack from below so stay on the ground". Thanks Kate, convenient that you know that. The chemistry of our two sisters was atrocious. Boring Lisa is boring and is known for being boring, but adventurous Kate loves adventure and always gets the guys because she's adventurous. As if that's a reason to go shark watching!? The sharks themselves were ridiculously difficult to see (due to the dark depths of the sea...and the hideous camera shots) and also lacklustre. No thrills to be had here, one or two jump scares but you won't be on the edge of your seat. Convenient plot points are convenient and you will either love or hate the ending. Oh, and the first 20 minutes were so generic that even the music used during the party was monotonous euro dance music. 47 Metres Down is the definition of irritation, this was dreadfully boring film that has the worst script I've seen in years. Please avoid.
Luke Andrews
Super Reviewer
The well-executed thrills of 47 Meters Down had me quite surprised. The film drew me in and tightened its grip, becoming a survival story with two characters we actually want to live. What was smart about the film was its ability to thrill even when sharks aren't the focus. The two sisters have to be savvy and figure out ways to escape while keeping eye on their oxygen. The technical aspects are all strong, with some solid shark effects, much better in comparison to the oddly revered The Shallows. But what undoes much of the goodwill the film sets up in the first two-thirds, is a drastic and cruel twist that is also well-telegraphed for any smart film watcher, far in advance. When it actually happens, it seems unnecessary and even deflates some of the best moments of fright the film has in its climax. It is a shame, because the film knows how to grind tension out of an unfamiliar situation. That darn twist, though spoils the fun. Rating: 58
½
The best kinds of thrillers and horror films don't have to rely on the big bad antagonist that is chasing our heroes around for actual scares, but rather they build up the tension and expel the terror through the situations they create given the circumstances no doubt involve a big bad killer or evil spirit chasing our heroes. Over the past two years we've received two very different, but startlingly effective shark movies that utilize this technique really well and fortunately 47 Meters Down is one of those with last summer's The Shallows being the other. To go one step further, I'd say 47 Meters Down is the better of the two. At a lean eighty-nine minutes writer/director Johannes Roberts (The Other Side of the Door) doesn't waste time setting things up, getting into the action, and most importantly-he doesn't muffle that action or story with supplemental material. Instead, he executes his and the characters primary objective as successfully as one could hope in this day and age and he does so by keeping things simple. Within five minutes of the film beginning we know why our two lead characters, sisters Lisa (Mandy Moore) and Kate (Claire Holt), are vacationing together, we understand the dynamic that has existed between them in the past, and we quickly come to note their motivations for seeking out the thrills that inevitably lead them to their unfortunate predicament deep within the ocean. There is no messing around, there is hardly even any submerging us in the environment that is the coast of Spain because this isn't the environment Roberts wants us to get comfortable with-in fact, he doesn't want us to get comfortable at all. This brings us back around to the opening sentence which comes up only to say that the sharks are actually the least of Lisa and Kate's worries here. Both Roberts and co-writer Ernest Riera are well-versed in utilizing the natural horrors that come with being plunged nearly 155 feet into the ocean waters and it is in such a scenario that 47 Meters Down continues to build upon the number of hurdles our characters must face if there is any chance of survival; only reminding us of the sharks when we think we can't handle another thing hurting those chances of survival. In short, it's kind of brilliant. read the whole review at www.reviewsfromabed.com
Philip Price
Super Reviewer
47 Meters Down Quotes
There are no approved quotes yet for this movie.
Discussion Forum
Discuss 47 Meters Down on our Movie forum!