4 (Chetyre)
(2006)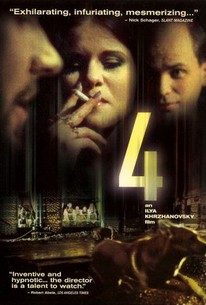 Movie Info
The lies shared by three Russian strangers take on a life of their own in director Ilya Khrzhanovsky's dreamlike journey into the strange heart of modern-day Russia. After entering a local watering hole and relaying a series of elaborate but entirely fabricated tales, a prostitute posing as an advertising executive, a piano tuner claiming to be a genetic engineer, and a butcher posing as a Kremlin insider all go their separate ways. In the hours following their strange conversation, all three will experience a surreal and richly symbolic voyage into a land where the specter of even the most elaborate of lies can somehow fade into reality for one tantalizing instant. ~ Jason Buchanan, Rovi
News & Interviews for 4 (Chetyre)
Critic Reviews for 4 (Chetyre)
Audience Reviews for 4 (Chetyre)
Three Moscow strangers meet at a bar, then we follow what happens to each of them after they leave (in theory, as the story of the prostitute returning to her drunken country village for a funeral takes up far more time than the others). Well shot, well acted, excellent sound design, but this one really shows off the worst flaws of self-conscious art films: it's pretentious, frustratingly obscure, unfocused, and most of all, boring.
½
[font=Century Gothic]"4" takes place in Moscow where a meat seller, Oleg(Yuri Laguta), a prostitute, Marina(Marina Vouchenko), and a piano-tuner, Vladmir(Sergey Shnurov), all walk into a bar around 3 am. They all lie about their varied professions - Oleg claims to supply drinking water to the government; Marina claims to be in charge of advertising for a mysterious Japanese product and Vladimir claims to be a scientist for a cloning project that goes back at least fifty years. Eventually, after a few drinks, they all part company and go to their respective destinies...[/font] [font=Century Gothic]"4" is a strange, haunting movie about identity - about who we are, what we could become and what we wish we were. On a larger scale, it is also concerned with national identity. The movie is very talky in spots but it is fascinating, nonetheless. It does go on a bit too long, though.[/font]
4 (Chetyre) Quotes
There are no approved quotes yet for this movie.