Superheroes
(2011)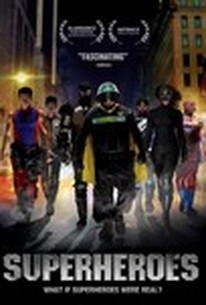 AUDIENCE SCORE
Critic Consensus: No consensus yet.
Movie Info
For anyone who ever doubted the existence of real life superheroes, this profile of everyday masked crusaders who seek to fight crime and protect average citizens proves that one needn't have superhuman abilities to make a difference in their communities. Take a trip to San Diego, where the neon and camouflage clad Mr. Extreme prowls the streets in a quest to quell violent crime. Meanwhile, the openly gay Zimmer - a member of The New York Initiative - fuses his love of computer science and technology in his noble quest to clean up the crime-ridden streets of Brooklyn, N.Y. Somewhere in the same city, the fearless Dark Guardian risks his own personal safety to confront drug dealers in broad daylight. The final hero profiled goes by the name of Life. To Life, compassion is the key to making the world a better place, and he puts this belief into practice by providing the homeless with the basic necessities needed to survive on the streets. Though some may laugh at the homemade costumes donned by these committed Good Samaritans, few will deny their unyielding humanity, and their fearless devotion to justice in the face of violence and lawlessness.
Critic Reviews for Superheroes
Audience Reviews for Superheroes
½
It's quite an interesting documentary about people who dress up as superheroes to "protect the innocents". I think despite their attempts at trying to be cool and do something for the society, they should really take care of themselves first. Don't let larping goes out of control! I liked the editing of the film, the use of narration and comic sans were quite well done. It's both entertaining and insightful, highly recommended to be watched for a good laugh.
Sylvester Kuo
Super Reviewer
It's a smart and entertaining documentary. The layout you present it is nice to put it as a comic, but at times feels a little loose. Although in some cases not very pleased to see young people who are somewhat "immature" and no more do that to imitate, though some were good.
Rodrigo Ramirez Corona
Super Reviewer
Superheroes Quotes
There are no approved quotes yet for this movie.
Discussion Forum
Discuss Superheroes on our Movie forum!