No Tell Motel
(2012)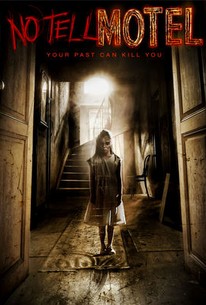 AUDIENCE SCORE
Critic Consensus: No consensus yet.
Movie Info
Stranded in the middle of nowhere, Megan Walsh and her friends are forced to spend the night in an abandoned roadside motel. Little do they know the crumbling structure is haunted by the spirits of its former owners, including a vengeful little ghost named Angela. As the haunting turns violent and the group's number dwindles, Megan realizes that the key to her survival lies in uncovering the secrets of the motel's tortured past. And even that might not be enough to save her
Rating:
NR
Genre:
Directed By:
Written By:
In Theaters:
On DVD:
Runtime:
Studio:
Critic Reviews for No Tell Motel
There are no critic reviews yet for No Tell Motel. Keep checking Rotten Tomatoes for updates!
Audience Reviews for No Tell Motel
½
Extremely amateurish. The writing both drives me crazy... but also stumbles onto some good horrific ideas. The film tries to be over the top to disturb the audience and frankly that has stopped ringing true for me. But some of its ideas are pretty disturbing and did leave me thinking about them after the film was over. I also have a problem with any 'ghost' movie where the spirits cause the living to re-enact or repeat their demises. I've seen that a number of times now and it has never worked for me. This film dabbles in that trope far too often and left me rolling my eyes the majority of the film. Nonetheless, an effort went into making this film and while it wasn't too successful it was a worthwhile endeavor.
Robert I (Master of All Movies)
½
Directed by Brett Bonowho and starring Angel McCord, Chelsey Reist, Johnny Hawks, Rileigh Chalmers and Andrew MacFarlane this horror flick centers around a dilapidated highway respite plagued with a tragic past and sinister presence. Five friends take a road trip in a borrowed caravan and discover more than they wanted to about one another on their journey into hell. The film has all signs of being a classic and creepy little thriller. The film is a cut and dry horror story with predictable characters. That is not always a bad thing and luckily for this film the stereotypes stop just as the movie really takes off. Sometime around the 25 minute mark when things get dark and twisted. The settings back story is one that is always chilling. A dead kid with a tragic life and a place as haunting and mournful as run down graveyard. As the film starts with the scary it also brings to light some really flawed characters on more than a tragic path that results in the accident which lands them at the motel. These kids lives where a train wreck way before they embarked on this little journey. It is a cool additive that allows the characters to be interesting. I didn't get bored with them from the word 'go'. 'Go' would have been the moment the sat in the caravan showing their personalities in that mundane predictable way that most horror cast set-up seem to go these days. Luckily it doesn't take hold because the horror unfolds pretty quick. The scars are almost set-up taking some fright out of the scene but not much. There were a few moments I actually jumped during the film. The lighting and cinematography was shot in a way that maintains the creepy dark atmosphere of the story. The acting is hit or miss with a few of the cast but overall is very believable. I connected with these 'almost- delinquents'. "No Tell Motel" was a very entertaining film that made the cut and dry horror theme held within enjoyable and watchable from beginning to end. There is blood, gore, and screams-oh and drama. I enjoyed the film and will add it to my collection of DVD's.
rick russ
Contrived, broke down in the middle of nowhere and resentments/secrets in the group start coming to light and...oh forget it, it's just pretty bad.
John Wagner
Discussion Forum
Discuss No Tell Motel on our Movie forum!