Stalled
(2013)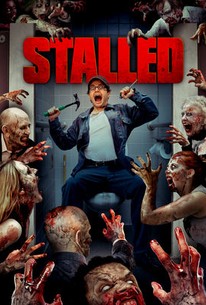 AUDIENCE SCORE
Critic Consensus: No consensus yet.
Movie Info
Mild-mannered janitor W.C. must learn to adapt when a zombie outbreak is unleashed while he is cleaning the women's washroom. Aided by the voice of the mysterious Evie, he will have to face his fears and use any means necessary to take down the zombified versions of his former co-workers in this outrageous and sexy zombie-comedy.
Rating:
NR
Genre:
,
Directed By:
Written By:
In Theaters:
On DVD:
Studio:
Critic Reviews for Stalled
All Critics (3) | Fresh (3) | Rotten (0)
I really enjoyed how Director Christian James handled such a risky premise, and as a zombie entry, it's very entertaining.

When it comes to combining zombies and comedy, the British simply know what they're doing.
broad social satire, wryly banalised genre parody and literal toilet humour predominate as an unnamed handyman protagonist (played by the film's writer Dan Palmer) becomes trapped in the cubicle of a ladies' bathroom during a zombie apocalypse.

Audience Reviews for Stalled
"The Queen's swimming in my toilet." Subgenre: Zombie horror-comedy. C'mon, look at the poster. Story: It's Christmas Eve, and poor WC (GET IT?) is hiding in a ladies bathroom stall after two women come in while he's cleaning. But when a pizza boy "gets rapey under the mistletoe" and leaves a bite mark on one of the ladies? He's literally up shit(ters) creek. I know, but I couldn't resist. FX: Middling. Zombies = white foundation & black eye makeup. Lots of fake blood and latex bite wounds lit too brightly to pass as believable. Thoughts: Well, this does answer the "what happens if you're stuck in the bathroom during the zombie apocalypse" question. Stalled is low budget horror. SUPER low budget. I see this film as one shot late at night at somebody's day job when the boss wasn't looking. And it doesn't help that Our Hero, WC, is such a milquetoast. And not the brightest tool in the shed. (Yes, I mix my metaphors. Don't judge.) And there are some strange, inexplicable moments here - no really, even moreso than tue usual horror stuff - like WC finding a yoooooge dead rat in a ceiling vent, and then picking it up with his bare hands to flush it down the toilet. WHY DID HE PICK UP THAT DEAD RAT WITH HIS BARE HANDS??? And c'mon now, flushing it down the toilet? Like a huge rat would fit. Lest you think it's just one man's survival story, a woman is stuck in another stall, keeping this from being a one-man show. WC skillfully draws a picture of a woman on the wall of his stall, so he has a face to look at as they talk. Does the film use that skill to develop his character? Nup. But do these two bicker, and then bond? Of course they do. That's Story 101, and apparently writer/lead Dan Palmer is able to swing that. Screenplay-wise, there are some nice gags at first. Zombies being fascinated by a person's reflection, a zombie whose costume is too big to fit through the door, and another who tries to decide between a drumstick in his hand and a live human in front of him...these all work. And for folks like me who love dry British humor, it's here in spades. There are even a few twists that could have made this movie something really interesting. But then the plot drags, as if everyone suddenly ran out of ideas. At least it feels as if the ideas ran out. Cue the shuffling undead! But sadly, the boilerplate "will they escape" suspense wasn't enough to keep me invested. There were several points where I considered fast-forwarding, and I checked the Netflix timer at least 8 times to see if the end was near. Chalk this up to a brilliant idea, poorly executed. As the director and writer/star are apparently still starting out in their careers, I hope one day in the near future these great ideas circle around a more solid script. Clichés: - Outbreak! - Crappy office coworkers - Downtrodden hero/lead - Slutty chicks - Out-of-the-blue girl on girl action - Silly character zombies - The ultimate sacrifice - Fantasy sequences - Big break, bungled - Holiday theme - Opposites attract - Accidentally stoned - Animated hallucinations - Thriller dance number - Skulls that go pop - Karma's a bitch - Dramatic irony you see coming a mile away Grade: D I'd like to give it a better grade, but it's too much of a mediocre letdown to even bump it up out of pity. But it's got a crazy premise, and this low-budget fest doesn't completely suck. Well, not completely. http://atomicfangirl.com/2016/02/29/the-horror-stalled/
Denise Dutton
½
A movie that certainly overachieves from its humble setting and budget. Honestly questioning whether to give this film a higher rating than 2.5 because there's definitely parts of the film that I liked, like W.C and Evie's budding friendship is quite strong, particularly since there's no physical interaction between the two as they're stuck in different stalls. So I thought that the writing between these two characters was quite strong and their chemistry, despite not actually being in front of each other, is one of the main driving forces of the film. There's a surprising amount of heart in this movie and one legitimately touching moment at the end. It's rare to find one of those in films that doesn't end up feeling forced and unearned. Not in this film, I think it works and establishes how important Evie/Heather was to W.C during the short time span that they knew each other. I also think that the movie makes clever usage of the zombie genre itself in a way that makes this, not entirely different, but more inventive than the usual low-budget zombie affair. I think the movie is funny, but not funny enough, if you catch my drift. Like there's moments of the film, even before Evie/Heather makes her presence felt from the other stall, that the film sort of drags because there seems to be nothing going on. Like there's one scene that's in one stall, looking up, and you can see W.C come into frame, from above the other stall, and he does something and then he ducks down into his own stall and the camera stays looking up for what seems like an eternity, in reality it was barely more than a minute, if that, before W.C pops right back into frame. That's not the only one, but it's the most egregious example of literally nothing happening. And the film isn't even that long, it's 83 minutes and 9 of those minutes are the end credits. So it's a film that, barely, makes it past the 74 minute running length, so I don't understand why they just couldn't have cut ahead during the one scene I just described. It's a film that also is a victim of its own limitations, though I do think that they make the most of it. Honestly, however, setting the entire thing in a bathroom stall comes like it was done more for budgetary reasons than creative ones. Though I do believe that they make the absolute most out of it where others would've just faltered. There's a decent amount of gore as well. I'm not sure whether I found this film to be good or not. There's a lot of good stuff here, like the character-driven elements of the film were really strong and the gore was good, but I don't know that, as a whole, the sum of its parts are, somewhat, lesser than the whole. Not by much, like I can see why some people would think this was a good horror movie. But I wouldn't go that far. It's about as close to good as you can get without actually being good. This is an overachiever and it's, at the very least, worth a shot. Might not be a great movie, but I appreciate the effort in making the most out of what you have. Decent zombie flick right here.
Jesse Ortega
Super Reviewer
Though the premise barely sustains a feature length film, it comes to combining zombies and comedy, the British simply know what they're doing.
Lee Mayo
Stalled Quotes
There are no approved quotes yet for this movie.