Stalled
(2013)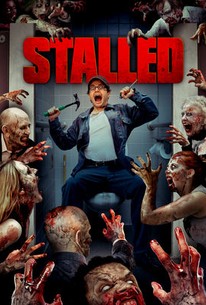 AUDIENCE SCORE
Critic Consensus: No consensus yet.
Movie Info
Mild-mannered janitor W.C. must learn to adapt when a zombie outbreak is unleashed while he is cleaning the women's washroom. Aided by the voice of the mysterious Evie, he will have to face his fears and use any means necessary to take down the zombified versions of his former co-workers in this outrageous and sexy zombie-comedy.
Critic Reviews for Stalled
All Critics (3) | Fresh (3) | Rotten (0)
I really enjoyed how Director Christian James handled such a risky premise, and as a zombie entry, it's very entertaining.
When it comes to combining zombies and comedy, the British simply know what they're doing.
broad social satire, wryly banalised genre parody and literal toilet humour predominate as an unnamed handyman protagonist (played by the film's writer Dan Palmer) becomes trapped in the cubicle of a ladies' bathroom during a zombie apocalypse.
Audience Reviews for Stalled
½
A movie that certainly overachieves from its humble setting and budget. Honestly questioning whether to give this film a higher rating than 2.5 because there's definitely parts of the film that I liked, like W.C and Evie's budding friendship is quite strong, particularly since there's no physical interaction between the two as they're stuck in different stalls. So I thought that the writing between these two characters was quite strong and their chemistry, despite not actually being in front of each other, is one of the main driving forces of the film. There's a surprising amount of heart in this movie and one legitimately touching moment at the end. It's rare to find one of those in films that doesn't end up feeling forced and unearned. Not in this film, I think it works and establishes how important Evie/Heather was to W.C during the short time span that they knew each other. I also think that the movie makes clever usage of the zombie genre itself in a way that makes this, not entirely different, but more inventive than the usual low-budget zombie affair. I think the movie is funny, but not funny enough, if you catch my drift. Like there's moments of the film, even before Evie/Heather makes her presence felt from the other stall, that the film sort of drags because there seems to be nothing going on. Like there's one scene that's in one stall, looking up, and you can see W.C come into frame, from above the other stall, and he does something and then he ducks down into his own stall and the camera stays looking up for what seems like an eternity, in reality it was barely more than a minute, if that, before W.C pops right back into frame. That's not the only one, but it's the most egregious example of literally nothing happening. And the film isn't even that long, it's 83 minutes and 9 of those minutes are the end credits. So it's a film that, barely, makes it past the 74 minute running length, so I don't understand why they just couldn't have cut ahead during the one scene I just described. It's a film that also is a victim of its own limitations, though I do think that they make the most of it. Honestly, however, setting the entire thing in a bathroom stall comes like it was done more for budgetary reasons than creative ones. Though I do believe that they make the absolute most out of it where others would've just faltered. There's a decent amount of gore as well. I'm not sure whether I found this film to be good or not. There's a lot of good stuff here, like the character-driven elements of the film were really strong and the gore was good, but I don't know that, as a whole, the sum of its parts are, somewhat, lesser than the whole. Not by much, like I can see why some people would think this was a good horror movie. But I wouldn't go that far. It's about as close to good as you can get without actually being good. This is an overachiever and it's, at the very least, worth a shot. Might not be a great movie, but I appreciate the effort in making the most out of what you have. Decent zombie flick right here.
Jesse Ortega
Super Reviewer
½
I heard about this film whilst preparing for my first FrightFest and the concept of a zombie apocalypse taking place in a toilet instantly excited me. Not only are zombie films my favourite type of films, I also love films set in a limited location. I desperately wanted to see it, but I figured it was either going to be awesome or terrible. Thankfully, it was the former. Unlike many films that trick you with an interesting and original concept which is barely utilised, it fully explores the thing that draws you in. The majority of the film takes place in the stall, and the rest of it within the bathroom (mostly), so there are no unnecessary filler scenes. It is more or less a one-man show, with Dan Palmer taking on the job of carrying the entire film on his shoulders. Playing to his strengths, he manages to create a likable and sympathetic hero in WC, as well as delivering his lines perfectly and just being damn hilarious. I knew I was going to love it as soon as soon as he uttered, "There's zombies in your toilet!". A secondary character, who we never see, is introduced later on and she is one of the few faults I find with the film. She's an interesting character with some funny lines, but also feels a little distant and occasionally forced - which may be especially jarring as she's playing against Palmer, who is much more natural. That's not to say I didn't sympathize with her either; it's just she felt a little out of place. It is very much a film that focuses on its characters and their situation, rather than being a slasher-zombie film. The zombies themselves look good and they, and the gory stuff, are used sparingly and to effect. It is a near-perfect film with only a few weak spots; the 'Evie' character, a bit of the overly sentimental dialogue and a couple of too-silly jokes, but after having seen it three times, it's definitely solidified itself as an all-time favourite for me, and I'm sure it'll be held up as one of the best zombie films in recent years for others as well.
Lauren Donis
Super Reviewer
Stalled Quotes
There are no approved quotes yet for this movie.