7 Plus Seven (14 Up)
(1964)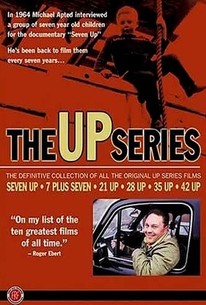 AUDIENCE SCORE
Critic Consensus: No consensus yet.
7 Plus Seven (14 Up) Photos
Movie Info
Produced for British television in 1970, Seven Plus Seven was the first of several follow-ups to the highly acclaimed 1963 TV documentary Seven Up. Director Michael Apted, who had been a production assistant and researcher on the 1963 film, took it upon himself to "update" the lives of the 14 British schoolchildren, who, at age seven, had been interviewed in the earlier production. Now having reached the age of 14, the kids -- drawn from every strata of the British social class structure -- provided fascinating, and, at times, poignant insights as to how their dreams and ambitions had been altered (or in some cases strengthened) during the intervening seven years. Especially fascinating is the story of middle-class child Tony, who, at seven, had bluntly declared his intention to become a jockey, and who, at 14, had taken the first crucial step towards that goal by finding work as a stable boy. Even more compelling is the saga of the woebegone Liverpudlian lad Neil, whose seeming inability to function in a structured society had caused him to abandon his plans to become a tour-bus guide, and to drift into a life of aimlessness and ultimately homelessness. Few could have guessed at this time that Neil's life would intersect with that of another of the film's subjects, the politically ambitious Bruce, ultimately culminating in happiness and fulfillment for them both. Despite his increasingly busy film and TV workload, Michael Apted would continue revisiting the 14 youngsters (at least, those who agreed to continue appearing on camera) at seven-year intervals, resulting in such fascinating documentaries as 21 Up (1977), 28 Up (1983), 35 Up (1991), and 42 Up (1998). ~ Hal Erickson, Rovi
Critic Reviews for 7 Plus Seven (14 Up)
Audience Reviews for 7 Plus Seven (14 Up)
½
The kids weren't as cute, but I enjoyed seeing how they got older and how their views changed.
Curtis Lilly
Super Reviewer
It's interesting to note which of the subjects were reclusive at 14.
Angela Alcorn
Super Reviewer
With the first jump of seven years we find all these kids are 14 and completely different than when we last saw them. Except for one. He said he wanted to be a jockey and he is on his way.
All of the kids seem to be sad to me. Almost as if they now realize after viewing the first installment that their childhood was almost over. The carefree abandon they faced life with has been replaced with schooling and an ever present knowledge that in seven years the person you once were has vanished forever.
I am looking forward to the next doc and seeing where these young people end up in the beginning of adulthood and the ever important 21st year of their lives.
Jason Spencer
Super Reviewer
7 Plus Seven (14 Up) Quotes
There are no approved quotes yet for this movie.