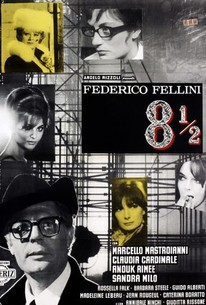 8 1/2
1963, Fantasy, 2h 15m
59 Reviews
25,000+ Ratings
What to know
Critics Consensus
Inventive, thought-provoking, and funny, 8 1/2 represents the arguable peak of Federico Fellini's many towering feats of cinema. Read critic reviews
Where to watch
In Theaters
Rent/buy
Rent/buy
Subscription
Rent/buy
Rate And Review
Movie Info
Troubled Italian filmmaker Guido Anselmi (Marcello Mastroianni) struggles with creative stasis as he attempts to get a new movie off the ground. Overwhelmed by his work and personal life, the director retreats into his thoughts, which often focus on his loves, both past and present, and frequently wander into fantastical territory. As he tries to sort out his many entanglements, romantic and otherwise, Anselmi finds his production becoming more and more autobiographical.
Genre: Fantasy

Original Language: English

Director: Federico Fellini

Producer: Angelo Rizzoli

Release Date (Theaters): wide

Release Date (Streaming):

Box Office (Gross USA): $50.7K

Runtime:

Distributor: Embassy Pictures, Kino Pictures
News & Interviews for 8 1/2
Audience Reviews for 8 1/2
Beautiful, artistic, well-crafted, innovative, influential, heartfelt, and playful. I'm usually not that big a fan of movies that describe the process of movie-making, or books that describe the process of writing for that matter, especially if it's about the difficulties and what amounts to 'writer's block', but in this case, director Federico Fellini is so masterful that it's impossible not to love 8 1/2. Through flashbacks to childhood, dreams, and fantasies, we see the inner mind of his main character, a director (Marcello Mastroianni) who struggles to figure out what to do for his next big film, even after sets have been built, and actors brought to the location. Everything around him is a swirl, from the pressure his producer applies, to advice and commentary from everyone around him, to his lover (Sandra Milo) and wife (Anouk Aimée) both showing up. What we see is just how close to the surface events from his childhood long ago really are. It's like a 'Rosebud' type of effect spread out over many situations, and it reminds us that the good and bad memories we carry around are always present, influencing our thinking and our emotions. Because of the fantasies the film has a surreal feel to it, but at the same time, it's also quite realistic, and feels at least partially auto-biographical. I say realistic not in the sense of neorealism (far from it), but in the sense that this is how our minds work - for the director, events in the present trigger memories of his past, and memories of the past are reflected in his actions and his films in the present. Everything is connected in this carnival of the mind. My only criticism of the film is that the director's fantasies, while honest, are not exactly enlightened relative to women. He wishes his wife was content to work long hours cleaning and taking care of the house. He wishes she accepted his mistress, and got along with her. He wishes all of his past lovers were available to him, and that they brought him new women, such as an 'exotic' black girl from Hawaii. He wishes that when they got too old, they accepted being removed from his life/consciousness by 'going upstairs'. On the other hand, Fellini gives us a marvelous moment when even these women in his fantasy rebel against these thoughts ("A real man loves women with no regard to their age.") The director is called out by his wife for his deceptions ("Another fiction, another lie"), as well as by his 'ideal woman' (Claudia Cardinale: "You're such a phony.") He is also redeemed in a very touching speech to his wife: "Luisa, I feel like I've been set free. Everything seems so good, so meaningful. Everything is true. I wish I could explain, but I don't know how. Now everything's all confused once again, like it was before. But this confusion is me, as I am, not as I'd like to be. I'm no longer afraid of telling the truth about what I don't know, what I'm looking for, what I haven't found. Only this way do I feel alive. Only this way can I look into your faithful eyes without shame. Life is a celebration. Let's live it together. That's all I can say, Luisa, to you or the others. Accept me for what I am, if you can. It's the only way we might find each other." To which she simply replies: "I don't know if what you've said is right, but I can try if you help me." The cinematography throughout the film is beautiful, and it seems like a lot of care went into maximizing the aesthetic of each shot. At the same time, this is not a pretentious film, and in fact, in creating a 'film within a film' which he cleverly warns us "lacks a philosophical premise", "is a series of gratuitous episodes", and is not "about love" because he's incapable of telling a love story, Fellini critiques his own work. The director is full of self-doubt, and understands the supreme egotism of the artist, which we hear from Cardinale when she tells him "What monstrous presumption to think that others could benefit from the squalid catalog of your mistakes." He feels like a phony as a husband and as an artist, and yet is simply striving to be honest and true to himself. It's a gripping feeling, and one that I feel is universal, perhaps more so to people in middle age, or to those who have found success in what they do. And, it turns out that for a film that is 'not a love story', there is a message of love in the end, one from a man who humbly understands his shortcomings, wishes to do better, and loves his wife.

Fellini takes his existential musings from La Dolce Vita to a radical level with this fascinatingly intimate and gorgeous exercise in self-reflection (the title couldn't be more perfect), shaping it as a stylish anti-comedy and building it upon a surprising anti-structural narrative skeleton.

Finely executed picture 8 1/2 is a splendid film experience that boasts a great cast, brilliant direction and a wonderful story. Shot in gorgeous Black &White, I felt that it added so much atmosphere to the film and in retrospect gave a much more in depth atmosphere that elevated the simple story quite well. This is a great film, one that should be seen by cinema fans, and if you enjoy classic, foreign dramas, then you're in for a real treat. I really enjoyed the film, and its premise, for what it is it's definitely of the top films that has ever been committed to film, and it's well worth your time. The story is simple, yet engaging, and it's a smartly crafted picture that delivers something truly special. 8 1/2 is a fine picture that manages to be captivating and enthralling from the first frame right up to the final shot due to the simplest of plots. Under the direction of Frederico Fellini, it is a standout feature, a film that is near perfect, and like I said, is well worth your time if you enjoy the genre. 8 1/2 works very well due to powerful performances, effective storytelling and great direction, and for what it is, it's a finely executed drama that does something quite wonderful with its story. This is a stunning picture that is enthralling from start to finish, and is one of cinemas finest films. Although at times a little long, you end up not caring because the story and performances are so rich in character that the make the weaker moments seem insignificant compared to the entire film. 8 1/2 is a stunning piece of filmmaking that will delight anyone looking for powerful, engaging storytelling, and it's a movie that is accomplished in the way it handles its subject.

An author trying to find his story. I saw this movie in an art house when I was a kid and didn't get it. I didn't understand the imagery. I certainly didn't understand his problem. Now I do.
See Details