9 Star Hotel (Malon 9 Kochavim)
(2007)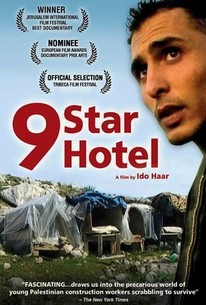 Movie Info
Slipping through the predawn darkness over highways, through traffic and across the border, Palestinian construction workers go to work clandestinely in Israel everyday. These workers build their own border shanty community to enter Israel more easily, with no choice but to risk their lives simply to earn a living.
Critic Reviews for 9 Star Hotel (Malon 9 Kochavim)
Audience Reviews for 9 Star Hotel (Malon 9 Kochavim)
½
[font=Century Gothic]"9 Star Hotel" is a documentary about a group of Palestinian itinerant workers who illegally cross over from the West Bank into Israel to work on the building of a city. Like other migrant workers around the globe, there is little work at home and they make the hard journey to support their families at home.(Some even work two jobs or find other ways to supplement their income.) But here, there is also the spectre of the Arab-Israeli conflict hanging over them, along with the Security Wall on the horizon which will make their crossings nearly impossible. These workers live in makeshift dwellings, sometimes even sleeping in the open air, all the while keeping an eye out for Israeli patrols.[/font] [font=Century Gothic][/font] [font=Century Gothic]What separates "9 Star Hotel" from other documentaries of its type is the level of access the filmmakers have with these men and the level of risk they take on themselves.(In a couple of sequences, it seems like the cameraman is running as hard as everybody else.) The movie is shot in a verite style, watching and listening to the men as they tell their individual stories without commenting. [/font]
9 Star Hotel (Malon 9 Kochavim) Quotes
There are no approved quotes yet for this movie.