A Bad Moms Christmas
(2017)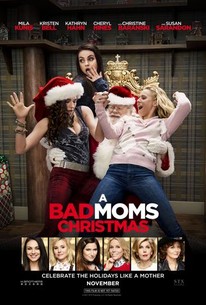 TOMATOMETER
AUDIENCE SCORE
Critic Consensus: Featuring twice the moms but roughly half the laughs, A Bad Moms Christmas is a slapdash holiday sequel that falls short of the original with a disappointing dearth of good cheer.
A Bad Moms Christmas Videos
A Bad Moms Christmas Photos
Movie Info
A BAD MOMS CHRISTMAS follows our three under-appreciated and over-burdened women as they rebel against the challenges and expectations of the Super Bowl for moms: Christmas. And if creating a more perfect holiday for their families wasn't hard enough, they have to do all of that while hosting and entertaining their own mothers. By the end of the journey, our moms will redefine how to make the holidays special for all and discover a closer relationship with their mothers.
News & Interviews for A Bad Moms Christmas
Critic Reviews for A Bad Moms Christmas
Audience Reviews for A Bad Moms Christmas
½
Wasn't the best. Kristen Bell and her Mum have the funniest bits. The rest of it is pretty cringeable. In particular, wax girl. Absolutely feral, and not in a good way.
Nicki Marie
Super Reviewer
½
They got a little confused with the basis for the Bad Moms idea, but the characters are likable and it was still funny. Christine Baranski was over the top.
Jason Cenzano
Super Reviewer
This is something that needs to be said when reviewing pretty much every comedy out there, but the comedy genre is subjective and many people don't really like when a movie is raunchy just to be funny. That being said, A Bad Moms Christmas is a sequel that improves on the original in my opinion. That doesn't seem to be a very popular thing to say about this movie, but I'm always honest about how I feel about a movie, never letting other critics decide how I should feel about a film. I truly believe that A Bad Moms Christmas is a much funnier, more heartfelt, and more genuine film than the original. Yes, the premise itself is as stale as they come and the conclusion of the movie is as predictable as ever, but if you enjoyed the raunchiness of the first movie, I just have to call it like I see it and say that I had a much better time with the sequel, and I thought the first was fine. Here's why you should check out this movie if this is your type of comedy. The first movie revolved around a group of women who rebelled against the school system, becoming cool moms for their kids and having a blast outside and even sometimes inside of school. Cursing and getting into hilarious antics is really what made the first movie work so well, so all I was hoping for was more of the same, but done with a little more care. Being a holiday film, this sequel deals with having each of their moms over for the holidays and once again having arguments, getting into silly antics, and yes, a lot of cursing ensues. Quite honestly, this movie delivers for fans of the first and actually had a final act that felt a little too familiar, but it was done well and didn't really feel all that contrived to me. There is a much more emotional turn than I was expecting here. Yes, it's a holiday film and it's going to give you life lessons about family and its importance, but I was genuinely touched by a few lines of dialogue, mainly because I enjoy watching these three women on-screen together. I know there's nothing too special about a movie like this, but there have been far worse comedies in recent memory. This year has been pretty poor in terms of delivering a solid yuck-fest, so I believe this ranks among the few good ones of 2017. Mila Kunis and Kristen Bell are great players throughout these two films, but Kathryn Hahn is once again the show-stealer here. Delivering hilarious one-liners and being the raunchiest of the group, she really does earn a lot of laughs from audiences. Once again, this is a very raunchy movie and sometimes jokes are overused a little too much, but that's why I recommend this movie to a very specific audience that enjoys the raunchier type of humor or those who aren't offended very easily. If you can forgive the mean nature of many of the jokes here, I think you'll have a good time at the movies. In the end, A Bad Moms Christmas does literally nothing new for the genre, but its raunchy nature, along with a great trio of lead actresses, really makes it a harmlessly enjoyable flick at the cinema. Joined by newcomers Susan Sarandon, Christine Baranski, and Cheryl Hines, A Bad Moms Christmas makes itself out to be the unlikely holiday treat that I don't think anyone was expecting. Yes, there are many arguments that can be made in terms of how this has a very lackluster premise, but in the end, this film exists to bank off the original film and try to get some laughs out of its audience, and I laughed the entire way through. If you just want to escape for a few laughs at the theatre, A Bad Moms Christmas may just be your ticket.
A Bad Moms Christmas Quotes
There are no approved quotes yet for this movie.
Discussion Forum
Discuss A Bad Moms Christmas on our Movie forum!