A Dirty Carnival (Biyeolhan geori)
(2007)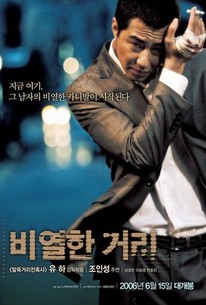 AUDIENCE SCORE
Critic Consensus: No consensus yet.
A Dirty Carnival (Biyeolhan geori) Photos
Movie Info
A small time thug collecting debts for the local triad is torn between his criminal aspirations and his devotion to family in writer/director Yoo Ha's epic crime drama. Byeong-du (Jo In-seong) is a twenty-nine year-old Seoul gangster who's looking to rise up through the ranks. Though his ambition is unmistakable, Byeong-du finds his family's financial problems taking a heavy emotional tool as he attempts to intimidate the locals into paying off their lingering debts. It seems that a local real-estate developer is attempting to pressure Byeong-du's mother into selling the family home, but Byeong-du's boss Sang-cheol (Yun je-mun) can't be bothered to care about the problems of his low-level cog. When a rival gang shows up looking to put the hurting on Byeong-du's gang, Sang-cheol blatantly violates the gangster code and Byeong-du becomes right hand man to powerful crime kingpin Hwang Heui-jang (Cheon Ho-jin). Later, after cementing his loyalty to Hwang by killing a local prosecutor, Byeong-du runs into former school chum Min-ho (Nam-gung Min). It seems that Min-ho is about to shoot a gangster film, but first he needs some help getting the script finished. Unfortunately for all involved, Byeong-du's fateful decision to help out his old friend will have tragic consequences.
Critic Reviews for A Dirty Carnival (Biyeolhan geori)
Audience Reviews for A Dirty Carnival (Biyeolhan geori)
½
[img]http://images.rottentomatoes.com/images/user/icons/icon14.gif[/img]
Directors Cat
Super Reviewer
Korean gangster film. Byung-du, a gangster since school, is moving his way up the ladder, but finds his violent lifestyle at odds with those he left behind, like his family his former sweetheart Hyun-Joo and his old friend Min-Ho, who wants to make a film about gangsters but needs his help to make it authentic, Entertaining enough, though it felt like too many plots from too many gangster films were being squeezed in to one storyline...- and then squeezed out again. And not a patch on A Bittersweet LIfe for showing a conflicted anti-hero. So if you haven't seen that yet, watch that instead. .
½
A desperate young gangster moves up the criminal ladder while simultaneously trying to reignite relationships from his more innocent school days. It desperately wants to be the Korean GODFATHER, but the characters/scenario/milieu aren't unique enough to justify its epic running time.
A Dirty Carnival (Biyeolhan geori) Quotes
There are no approved quotes yet for this movie.