A Family Underground
(2009)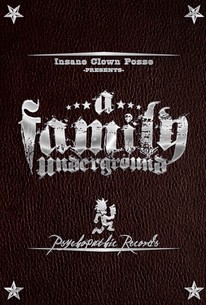 AUDIENCE SCORE
Critic Consensus: No consensus yet.
Movie Info
This music themed release from the rap-metal group Insane Clown Posse documents the annual Gathering of the Juggalos festival hosted by Psychopathic Records. In addition to concert footage, the program includes backstage scenes, including a couple who get married at the event.
Critic Reviews for A Family Underground
There are no critic reviews yet for A Family Underground. Keep checking Rotten Tomatoes for updates!
Audience Reviews for A Family Underground
Among my group of friends, I have the feeling I am going to be hated. The reason why is due to me giving this documentary such a low rating. Now, I am going to be open and say that I am not the biggest fan of hip-hop/ rap music, but I can tolerate the genre. When I first heard of Psychopathic Record's number one group Insane Clown Posse, I got interested because I did like the name and what the meaning behind the group is. Then I heard one of their albums and had a complete pool of hatred formed for the music. It is all juvenile, pathetic, and just plain Godawful. Puzzled as to why this record label even has a fan base, I decided to ask around the other 'Juggalos' (fans of this music) to see why it is even popular. They don't have an answer. I think that alone describes the music that this documentary is about: people like it because they believe that it is all against society and teenagers (and adults that never grew up) want to believe that they are against the norms of society just because they see grown men jumping around on stage trying to copy that antics of hard rock and black metal groups. As a documentary, this is as uneven as you can get. It is informative, but if they were trying to show why people would pay money to see their acts, they were on the wrong track. The people they showed gives the message that only other rap artists (ex. Ice T) and uneducated teenagers and their parents listen to this music. One simple concept of marketing: you don't show idiots promoting your material unless you are making this for idiots. The main purpose of this documentary is not really to promote the music, though that is something of a goal. It is to show a festival to celebrate this music called 'Gathering of the Juggalos'. I will say that I am impressed at the dedication that these people have for this bullcrap music. But it does leave me to question if anybody has actually listened the music to see if it is any good. Most of you are going to complain that I am not talking about the documentary, but about the music. Well, I kind of have to seeing as how this entire documentary is littered with their music. On the main idea behind it, it is crap. Complete and utter. It is obvious that half of these people are either reading poorly written scripts or don't even know what they are talking about. Half of the time I was questioning why I was even watching this. Point being: unless you are one of these poor unfortunate souls that like their music, you will hate this documentary with a passion. Or die of laughter. This is not worth the one and a half hours you will waste. Too bad I can't give this zero stars. Just... not worth it.
Zach Brehany
Super Reviewer
Watching this documentary actually makes me want to go to a Gathering.I just could not believe the guys who were doing the backyard wrestling & beat each other bloody & I loved the Juggalo wedding even though I figured that was gonna happen.I hope there will be more documentaries on The Gathering in the future
Brody Manson
Super Reviewer
A Family Underground Quotes
There are no approved quotes yet for this movie.
Discussion Forum
Discuss A Family Underground on our Movie forum!