A Ghost Story
(2017)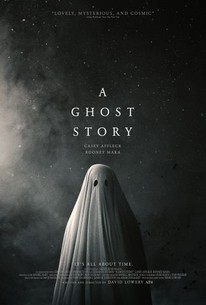 TOMATOMETER
AUDIENCE SCORE
Critic Consensus: A Ghost Story deftly manages its ambitious themes through an inventive, artful, and ultimately poignant exploration of love and loss.
Movie Info
With A GHOST STORY, acclaimed director David Lowery (AIN'T THEM BODIES SAINTS, PETE'S DRAGON) returns with a singular exploration of legacy, loss, and the essential human longing for meaning and connection. Recently deceased, a white-sheeted ghost (Academy Award-winner Casey Affleck) returns to his suburban home to console his bereft wife (Academy Award-nominee Rooney Mara), only to find that in his spectral state he has become unstuck in time, forced to watch passively as the life he knew and the woman he loves slowly slip away. Increasingly unmoored, the ghost embarks on a cosmic journey through memory and history, confronting life's ineffable questions and the enormity of existence. An unforgettable meditation on love and grief, A GHOST STORY emerges ecstatic and surreal - a wholly unique experience that lingers long after the credits roll.
News & Interviews for A Ghost Story
Critic Reviews for A Ghost Story
Audience Reviews for A Ghost Story
This movie is simultaneously not for everyone, while also trying to demand everyone's attention. That statement may confuse some people, so please listen closely if you're intrigued, because this review if going to be about me gushing on how incredible this film is. Whole critics seem to general love this film, average moviegoers seem to be pretty divisive on this film in retrospect. Personally, I completely see how many would be bored or turned off by this film, so whether or not you like this film is up to you. Personally, this film opened my mind in ways I wasn't expecting and I found myself in a state of transfixion when the credits began to role. So, this review will definitely lean heavily on a recommendation to everyone, but please be advised that the film itself is absolutely not for everyone. Now that I have that out of the way, let's dive in. As a couple is about to move out of their first house onto bigger and better things, the husband (Casey Affleck) dies in a tragic accident. The film then follows the wife (Rooney Mara) as she copes with her loss. The husband returns in ghost form, walking around the halls of the house, watching her every move, stating that people really do watch over us after they die. This premise is fantastic, but the visuals themselves and the way the movie is constructed is what I feel may turn many people off. Coming off cheap by literally having the husband dressed in a bed sheet, the movie may seem cheesy to some, but that's not the point of it at all. From long takes of people sitting alone in a room to time travel in order to open viewers mind's, this movie takes many risks, but I think they are all genius in their own right if you're in the proper mood when watching this film. Going from many short films, to independent features, to a big blockbuster in last year's Pete's Dragon, director David Lowrey has been all over the business, so it was pretty clear that this was a passion project for him, and that the amount of viewers this film gained didn't matter to him in the slightest. I think this was the best way to make a movie like this, because only the most hardcore film fans will probably discover it, which is where I feel it's best suited anyways. There is so much symbolism about the meaning of life and which aspects of it really matter the most, but I feel as though many viewers won't catch on. Once again, if you're in the right mindset and are open to literally anything, then I believe you'll have the same reaction to this film that I did. Many viewers like being able to relate to a character when they speak to someone and open up about themselves, but this film is very far from anything like that. There are stretches of the film that can last up to 30 minutes without a single word being spoken, leaving it up to your interpretation on how they're feeling or what they're thinking. This is a very lonely-feeling film that you need to be relaxed and open-minded about. In my opinion, when a film can show you a piece of imagery and have you understand what a character is going through, what they're thinking, all while giving you a sincere look at our planet as a whole, when it's accomplishing everything it set out to do, and then some. Simply put, sometimes showing things to an audience is much more powerful than having it explained. In the end, A Ghost Story is strangely enough one of the most powerful experiences you'll be able to see an all of 2017. Now, there isn't much dialogue, so you really have to pay attention and think about every piece of imagery, but if you're willing to do that, then I believe you will have a terrific experience as well. If you're not into this film after the first 10-20 minutes then you're either not in the right mindset or it's just not for you, which I completely understand. Many people will hate this movie, but I believe the message itself is worth waiting for alone. A Ghost Story is easily one of my favourite films of the year and I can't wait to watch it multiple times.
Ever wanted to see Oscar-nominated actress Rooney Mara eat a pie? Odd question, I realize, but apparently one that writer/director David Lowery felt compelled to answer. With the success of last year's utterly heart-warming Disney remake of Pete's Dragon, Lowery secretly made a low-budget movie with Casey Affleck and Mara, reuniting two of his actors from Ain't Them Bodies Saints. The end result, A Ghost Story, literally involves a deceased Affleck stalking the screen in a long white sheet with two eyeholes. Lowery's tone poem of metaphysical grief will likely alienate just as many people as it dazzles, and I fall squarely in the former camp. This movie is arthouse bluster. This is a twenty-minute short stretched beyond a breaking point to fit a feature-length running time. It's an impressionistic movie in the guise of the works of Terrence Malick, small and earnest and far more concerned about mood than story. That's fine but if you're going the impressionistic route I need scenes that aren't self-indulgently laborious and constantly striking the same note. The majority of this movie is beautifully composed shots that eventually reveal the ghost standing in the background. It becomes a game of guessing when the camera will reveal the ghost's presence. I understand that grief and loneliness is going to naturally deserve a slower pace to get a sense of the melancholic loss, but a slow movie that keeps delivering the same imagery is monotonous. The metaphors get old. The only thing holding the audience together is the time-traveling quest for the ghost to retrieve the note Mara's character slipped into a door jam. It's a long mystery that will ultimately prove an unworthy payoff. If Lowery is intending for the audience to feel the same sense of boredom and isolation as the ghost, that's fine, but the movie dwells in this same emotional space with too little variance or further insight. And this is where I have to come back to the pie as a symbol of the film's self-indulgence. I have felt the urge to walk out of other movies but never acted upon them. I was minutes away from walking out on A Ghost Story, and it was the pie-eating scene that almost pushed me to bail. The idea of binge eating your feelings is a suitable metaphor for grief, and it works on its own initially, as she sniffles and holds back tears with every bite. And then she keeps eating. And then she keeps eating. The scene goes on for like ten minutes, uninterrupted, and with no further commentary. You are literally watching Mara eat a pie in real time and then throw up. After the sixth or so minute of pie consumption, I started laughing out loud, and then other people around me joined in. What can you do? Just as Mara's character overindulges to the point of sickness, this scene pushes the beleaguered audience to the point of running out of the room gagging. This would be different if the movie gave Mara anything really to do besides swallow her feelings. She has a few more scenes of the humdrum of moving on, painting the house she shared with her loved one, and then leaving. It seems like an awful waste of Mara's talents but I would say the same thing for Affleck. I'm sure not having to memorize any lines after the ten-minute mark and getting to emote entirely through physical expression could be fun for an actor. It's practically a throwback to silent film thespians. However, he's just kind of there, like living furniture. I understand that part of grief is feeling like you're a forgotten being and that time is infinite and punishing. I understand that sadness can feel numbing and cut to the bone. I get the mood; I even get the central metaphor of the de-contextualized ghost in a sheet just hanging around old haunts, unable to do much else, disconnected from the world and unable to move on or make sense of things. My issue is that this approach relegates the actors to stand-ins, squeezing the characters into intentionally bland ciphers for audience relatability. They are not allowed to be characters because somehow this would detract from the artistic appeal or message. It's frustrating because A Ghost Story has ideas, images, and moments that intrigue, beguile, and have a poignant power. It's when the film expands beyond its limited parameters that it becomes its more interesting shape. As the ghost attempts to keep watch over Mara's character, time moves much faster, to the point that a mere walk from one room to another can be the expanse of months. The triptych sequence of being unmoored through time, as everything speeds by so quickly, accentuates the helplessness of the ghost as well as the isolation. It's like the world and life itself is outgrowing them, forgetting them, and leaving them further and further behind. There are also other ghosts and our ghost has a subtitled dialogue with them. It sounds silly but it's actually one of the most sublimely affecting moments in the film, an idea that actually hits its intended mark. Take this exchange: "I'm waiting for someone," "Who?" "I don't remember." Then the other ghost goes back to waiting, forever hopeful, forever clinging onto something that has long since evaporated, where even the memory, the concept of the idea of why has also vanished. Late into the movie the ghost starts going backwards and forwards in time, to a distant future of Bladerunner-like neon high-rises, to the nineteenth century to track a family of westward settlers. The abrupt careening through time says more about the ghost's existence and it keeps things fresh. If this movie was a total wash, I could write off Lowery's curio as self-important navel-gazing, but there are kernels of ideas, or moments, that stand out and demand a better presentation for better effect A Ghost Story will definitely strike different people differently. It's a deeply personal, poetic, and, if you're not properly attuned to its metaphysical funeral procession, pretentious and pondersome film that wears out its welcome long before the end credits. I found the substance to be spread too thin over such a longer running time than this execution deserved. If you're going for an impressionistic evocation, then the scenes need to be paced better. If you're going for a mood of loneliness, then latch onto the character better and let's follow Mara's character as she rebounds and grows old. If you're going for an existential horror movie, then present more confusion and terror and less of the same visual metaphors on constant repeat. If you're going for Rooney Mara eating an entire pie in real time, then, well, actually you've succeeded. Congratulations. A Ghost Story is going to be one of those movies that critics fawn over that leaves me shrugging. Nate's Grade: C
Nate Zoebl
Super Reviewer
A Ghost Story is a thematic contemporary minimalistic piece of cinema that will not appeal to many people. Straight away there were people leaving the cinema or sniggering at the concept. It might sound like a horror film, it is not. Do not watch this expecting jump scares...although, funnily, there were one or two. This is an extremely heavy story that explores deep themes including existentialism, legacy and the passage of time. A couple reside peacefully in a small house until one of them is killed in a car accident and returns in a ghostly form. The ghost is presented simply as a man under some bed sheets with some eyes cut out. Minimalistic. The dialogue is sparse to enhance the visual narration of the story. Minimalistic. The camera, for many scenes, will not move for a good 5 minutes. Minimalistic. The majority of the film takes place in one house. Minimalistic. Ok fine, you get the idea. Director David Lowery did not require a massive budget to convey the idea of time. That's the beauty of this! The purpose is to interrogate the question of: "who suffers the most pain, the widow as they mourn or the ghost that observes them moving on?". An absolutely fascinating premise. Seemingly trapped in the afterlife in what I can only describe as a time loop, the ghost not just observes their widow moving on, but other generations after. An imprisonment fuelled by sorrow. The ghost cannot communicate verbally and yet somehow I felt their pain through the limp and slow movement which made the whole film melancholic. The genius move to have the camera in a 4:3 aspect ratio in order to enhance the idea of being trapped. There were times though that I found Lowery slightly borderline pretentious. A 3 minute take of Mara and Affleck in bed was too slow for its own good. In contrast, Mara eating a pie for a 5 minute take was far more gratifying to watch. I did also find that a scene where a guy talks about legacy and existence just ruined the subtlety that the narrative was clearly trying to convey. Deeply thematic, but borderline pretentious.
Luke Andrews
Super Reviewer
A Ghost Story Quotes
There are no approved quotes yet for this movie.
Discussion Forum
Discuss A Ghost Story on our Movie forum!