A Wrinkle in Time
(2018)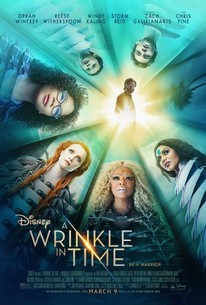 TOMATOMETER
AUDIENCE SCORE
Critic Consensus: A Wrinkle in Time is visually gorgeous, big-hearted, and occasionally quite moving; unfortunately, it's also wildly ambitious to a fault, and often less than the sum of its classic parts.
Movie Info
Meg Murry (Storm Reid) is a typical middle school student struggling with issues of self-worth who is desperate to fit in. As the daughter of two world-renowned physicists, she is intelligent and uniquely gifted, as is Meg's younger brother Charles Wallace (Deric McCabe), but she has yet to realize it for herself. Making matters even worse is the baffling disappearance of Mr. Murry (Chris Pine), which torments Meg and has left her mother (Gugu Mbatha-Raw) heartbroken. Charles Wallace introduces Meg and her fellow classmate Calvin (Levi Miller) to three celestial guides-Mrs. Which (Oprah Winfrey), Mrs. Whatsit (Reese Witherspoon) and Mrs. Who (Mindy Kaling)-who have journeyed to Earth to help search for their father, and together they set off on their formidable quest. Traveling via a wrinkling of time and space known as tessering, they are soon transported to worlds beyond their imagination where they must confront a powerful evil. To make it back home to Earth, Meg must look deep within herself and embrace her flaws to harness the strength necessary to defeat the darkness closing in on them.
News & Interviews for A Wrinkle in Time
Critic Reviews for A Wrinkle in Time
Audience Reviews for A Wrinkle in Time
½
Everyone seems to be throwing shade on Disney for being too attached to franchises and not doing anything original. They are definitely a studio that recycles ideas and makes them into unique new things, so they are always worthy of applause, no matter how familiar one of their films may seem. I was very much looking forward to A Wrinkle in Time. I had no prior knowledge of its source material, so I was seeing it as an original film that was hitting theatres sometime soon. That time has now come, and although I'm something who tries to see the best in every film that I watch, there's no denying that this one just doesn't quite feel right. Not to say this is a bad movie by any means, but here's why it fails to reach its potential on multiple occasions. After her father disappears and ends up somewhere distant in the universe, his daughter Meg is sent by three women on a quest through time and space to locate him. Accompanied by her younger brother Charles Wallace and newfound friend Clavin, the three of them embark on a strange journey across the universe. With unique visuals surround each and every scene and a fantastic performance by Storm Reid in the leading role, the epic scale, and emotional impact are truly what will win over the viewers. Aside from those elements, this is a fairly sloppy movie that tries a little too hard to be unique. Without ruining the film, it relies very heavily on the character of Charles Wallace to heighten certain aspects of the story. For that reason, the film suffers from a few laughable lines of dialogue, due to the fact that Deric McCabe may not have been the right kid to cast in this particular role. I was taken out of many dramatic moments, simply because I just wasn't buying into the way he was delivering his lines. On top of that, the three goddesses in Mindy Kaling, Reese Witherspoon, and Oprah Winfrey are present for a purpose, but they could've easily been excluded from the film once they bring the main characters to the places they need to be. They're quite annoying and simply unnecessary when it came to the story itself. Witherspoon was solid, but that's only because she had more things to do with her role than the others. The most frustrating part about this film is that Chris Pine is great in this movie and the conclusion of the third act felt earned and I found myself emotionally invested and caring about certain characters. The reason that aspect of the film is frustrating is that the film deviates too much from his character and it just feels like it drags quite a while before reaching him. That's a huge problem, especially when reflecting on the fact that the runtime is a mere 109 minutes. In the end, A Wrinkle in Time may have been a much better film with a few re-writes and about 20-30 minutes added on in order to expand the world a little more. The editing felt choppy at times, certain characters appear in places without explanation, and the solid visuals aren't enough to elevate the sloppy plot execution. Yes, there are a few great performances and the core story is worth watching, but there are too many problems surrounding that element to really send anyone out to see this in theatres. This is a neat and complex idea that would've worked as a much grander and elongated epic. Ava Duvernay is a fantastic director that tried a little too hard to impress here and I truly hate to have to admit that about this promising storyline. Overall, this is a pretty middle-of-the-road picture.
A Wrinkle in Time Quotes
There are no approved quotes yet for this movie.