Across 110th Street
(1972)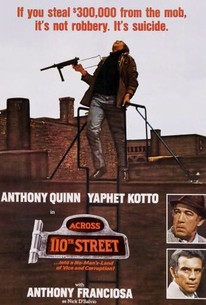 Movie Info
In this film, Anthony Quinn plays an on-the-take New York cop who is deeply indebted to the local Mafia. When three black criminals steal a huge sum of money from the mob-controlled Harlem numbers racket, Quinn is assigned by headquarters to collar the criminals and retrieve the loot.
Critic Reviews for Across 110th Street
Audience Reviews for Across 110th Street
½
If you want to see what films were like before being politically correct hit the big screen this is your film to watch. Just to see what life was all about in Harlem in the 1960-1970 made this film enjoyable. The dress of the pimps, the action taken by NYPD, The Mob and the Streets of New York. If your insulted by bad language then this is not your film. Blew my mind to see a film made in 1972 with the word raciest used so many times. Lot of enjoyable forgotten black stars. This one goes to the top shelf of my collection. 4 1/2 stars.
Bruce Bruce
Super Reviewer
½
Grouped in the blaxploitation vein, this is more a crime drama than your average exploitation film. A fantastic cast, a good script and a sweet soundtrack. The direction is a bit erratic at times, and the ending not as climatic as it wanted to be, but the goods of the film surpass these flaws.
Tsubaki Sanjuro
Super Reviewer
½
It's my personal opinion when I say the 70's produced some of the best films, ever. Filmmakers were trying to break loose of tired Hollywood traditions and branching out to make "real" films. Not all were great, but even those low budget types had something different to offer. Across 110th Street takes blaxploitation out of it's downward spiral of repeated structures and tries to give it an artistic value. It succeeds on some levels bringing with it some interesting characters.The story, too, has some moments of truth, and there are plenty of unexpected developments punctuating the extremely violent action. It's also fun to sing the chorus to Bobby Womack's title hit.
El Hombre Invisible
Super Reviewer
Across 110th Street Quotes
There are no approved quotes yet for this movie.