The Adventure of Sherlock Holmes' Smarter Brother
(1975)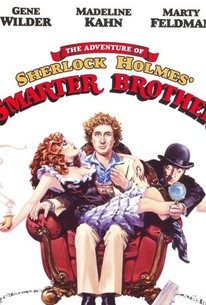 AUDIENCE SCORE
Critic Consensus: No consensus yet.
Movie Info
The films of the world's greatest detective are spoofed in this mystery-comedy that centers on Sigerson Holmes, the brighter brother of the famed sleuth. The trouble is, Sigerson is terribly jealous of his younger brother and so feels obligated to prove himself superior in every way no matter how inane or picayune. The tale begins as Sherlock and Watson leave the country for a while, leaving Sigerson to investigate the evil doings of his brothers' nemesis Professsor Moriarity, who has absconded with some valuable government papers. He is assisted by a bug-eyed Scotland Yard detective with "photographic hearing," and a seductive, enigmatic woman. Merry mayhem and adventure ensues as they try to piece together the clues. It is dangerous work and the hapless elder Holmes nearly loses his life. Fortunately, Sherlock steps in and reveals that he has been there all along, protecting his brother and his friends. The two Holmes then team up to bring Moriarty to justice.
Critic Reviews for The Adventure of Sherlock Holmes' Smarter Brother
All Critics (3) | Fresh (2) | Rotten (1) | DVD (5)
Good-natured Sherlock spoof with some dirty-joke humor.
...the daisy-chain of prop gags, slide-whistle humor, and blackout sketches merge sometimes uneasily with the romantic and mystery-thriller components. What glues it together, barely, is the talented cast in fine form....
Audience Reviews for The Adventure of Sherlock Holmes' Smarter Brother
½
This film, from beginning to end, feels as if Wilder desires to resurrect (unintended but spot on pun usage) the magic of Young Frankenstein. The cast is all but here, the wackiness, and yet ... it only achieves cute (and that from the memory of the latter mentioned work) and no more. Prepare to be disappointed.
Kevin M. Williams
Super Reviewer
A classic cast line up including Feldman, Wilder, DeLuise, Kinnear and Le Mesurier unfortunately can't quite save this brilliantly original wacky tale which sounds and looks better than it really is. Its a huge shame to be honest as you really really think this is gonna be an epic in the same league as 'Young Frankenstein' but its just lacking bite, the cast do well for whats on offer but it just isn't too funny plus there are some really cringing song n dance routines here. Dom DeLuise is probably the best for a good chuckle as usual with his jolly japes and camp capers hehe whilst Feldman and Kinnear are decent too but alas Wilder comes across as kinda blunt with his miserable character. Some nice sequences like the stagecoach fight but also some pretty dire ones like the finale make it touch n go, still its a nice flick and worth a look if you like Wilder.
Phil Hubbs
Super Reviewer
A very funny spoof of Sherlock Holmes. There are a couple of awkward moments, but overall, it's very funny. Plus, Wilder directs this one.
The Adventure of Sherlock Holmes' Smarter Brother Quotes
There are no approved quotes yet for this movie.