Affinity
(2008)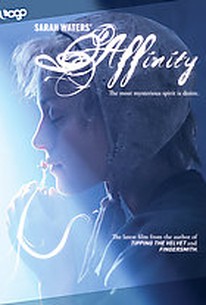 AUDIENCE SCORE
Critic Consensus: No consensus yet.
Movie Info
Sarah Waters' 1999 novel of the same name serves as the inspiration for director Tim Fywell and screenwriter Andrew Davies' gothic period drama detailing the relationship between an upper class Victorian girl still mourning the death of her father and a once-successful medium imprisoned for assaulting a young girl. Margaret (Anna Madeley) may have all the wealth a woman cold want, but without her father around she just can't seem to enjoy it. In desperate need of a diversion and eager to experience life outside of her small protective bubble, Margaret makes arrangements to go to Millbank Prison as a "Lady Visitor." Once inside the stone and steel fortress, it doesn't take long for Margaret to forget about her responsibilities to the prisoners and form a strange fixation on an attractive young named convict Selina (Zoe Tapper). Before Selina was imprisoned, she had enjoyed celebrity status as a medium. That all changed once Selina was accused of assault, yet the closer Margaret gets to the charismatic inmate the more convinced she becomes that her story isn't as simple as the judge made it out to be. ~ Jason Buchanan, Rovi
Critic Reviews for Affinity
Audience Reviews for Affinity
What a lot of angst about lesbian relationships. Margret falls for Dawes (Selena), but it appears that Dawes is just using everyone to achieve her ends.
It looks very beautiful (the costumes are great), but the set designers seem to have ignored the point of the panopticon setting. Margaret is perhaps a bit too assertive, Selina perhaps not serene enough, and the subplot of Margaret's proposal offer lessens the pathos of her character from the book, but it is perhaps more problematic for such a prominent media to portray a lesbian as a plain spinster, as we are trying to do away with old assumptions in the new millennium. However, the overall atmosphere of control and oppression is still put across well, and at least they didn't tamper with the ending too much.
Affinity Quotes
There are no approved quotes yet for this movie.