Afterschool
(2008)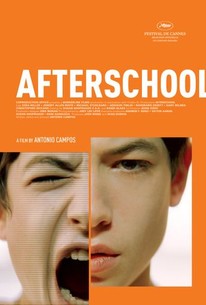 Movie Info
Violence and voyeurism lurk beneath the surface of life at an exclusive prep school in this independent drama. Robert (Ezra Miller) is a high school student who has made a hobby out of dulling his senses with violent pornography that he finds on the Internet. While Robert doesn't have many friends, he does have a habit of documenting the habits of his classmates with a digital video camera, and he happens to be on hand when two girls from his class succumb to fatal drug overdoses. As the deaths leave the school's faculty at a lost for what to do and send many of the students into a state of depression and denial, Robert finds himself becoming even more alienated from the world around him. Afterschool was the first feature film from writer and director Antonio Campos, and was screened as part of the "Un Certain Regard" series at the 2008 Cannes Film Festival. ~ Mark Deming, Rovi
Rating:
NR
Genre:
Directed By:
Written By:
In Theaters:
On DVD:
Runtime:
Studio:
News & Interviews for Afterschool
Critic Reviews for Afterschool
Audience Reviews for Afterschool
Campos directs Afterschool which depicts a shy kid going through a post traumatic event in which he was the first to witness two of his classmates die in front of his eyes. Brilliantly directed in voyeuristic manner, Afterschool is almost like a documentary of the real events happening at a small private school. Most will find this movie off putting, and perhaps boring, but this is a clever and original movie that is well worth watching.
Raji Kosloske
½
Haunting and unerving film that can be compared as the KIDS of this generation with it look on teens and violence,sex,drugs and the the internet
Eric Prill
½
Well that's 100 minutes I'll never get back. I tracked down "Afterschool" because it was produced by Sean Durkin, writer/director of the spine-tingling "Martha Marcy May Marlene." But, oh my God, "Afterschool" is nothing like "Martha Marcy." My jaw hung open through most of "Martha" because it was so good. My mouth hung open through most of "Afterschool" because it was so bad. Writer/director Antonio Campos, in his feature-film debut, brings us a mind-numbingly boring and empty story about zombie-like teenagers in an elite boarding school. I appreciate that Campos and Durkin hired actual teenagers to play the teenage characters. This is a pleasure, as most often teenage characters are played by 25-year-olds pretending to be adolescent. But this is the only thing about the project that was any good. Campos appears to have been trying to make some kind of comment about the impact of computer-based video on 21st-century teenagers. The main character watches clips on You Tube a lot and walks around in a stupor. All his schoolmates are in a similar stupor and have meaningless sex while on drugs. These characters bear no resemblance whatsoever to the teenagers with whom I interact, who are cauldrons of emotion and energy. They may be a bit aimless, but they're far from catatonic. The drama (if you can call it that) surrounds a drug overdose that the main character accidentally captures on video. He stands there dumbfounded as two girls choke to death in the school hallway and doesn't call for help. It's like he's watching a video, get it? Can't tell the difference between video and reality. Ugh. We watch afterward as the well-meaning but feckless teachers and police try to figure out why the boy did nothing. But no one really "gets through to him" (as feckless adults are fond of saying). I think most You Tube videos have more interesting things to say than "Afterschool." At least they have a pulse.
William Dunmyer
Super Reviewer
Afterschool Quotes
There are no approved quotes yet for this movie.