Aftershocks (Tangshan dadizhen)
(2010)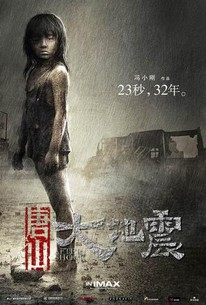 Movie Info
Two natural disasters frame a story of a mother, her children and a painful decision that scars them forever in this grand-scale drama from China. In 1976, Li Yuanni (Xu Fan) is living in the city of Tangshan with her two children, seven year old twins Fang Da and Fang Deng. The family's life is simple but full of joy until a massive earthquake levels the city and leaves a swath of destruction in its wake. Amidst the wreckage, Li Yuanni discovers both Fang Da and Fang Deng are caught under a concrete slab, and if enough is broken to rescue one of the children, it would tip the balance and crush the other. Li Yuanni is asked which child should be saved, and she impulsively answers her son Fang Da. The boy is rescued, but the effort costs him his arm; meanwhile, the daughter Fang Deng is left for dead but miraculously survives, and is eventually adopted by another family without Li Yuanni's knowledge. The mother is forced to live with the shame of her decision, Fang Da grows to be a physically and emotionally broken man, and Fang Deng studies medicine, starts a family on her own and leaves China for Canada. It's not until 2008 that the story of the mother and the daughter she lost comes full circle in the wake of another earthquake in Sichuan. A massive commercial success in China, Tang Shan Da Di Zhen (aka Aftershock) made its North American debut at the 2010 Toronto International Film Festival.
Critic Reviews for Aftershocks (Tangshan dadizhen)
Audience Reviews for Aftershocks (Tangshan dadizhen)
½
A rather long, but well done, touching movie based around the 1976 earthquake in Tangshan, China. Incredible story about the decisions a mother had to make in the aftermath, and the decisions each family member makes to pick up their lives, and move forward. I found the changes in the town, attire and vehicles as the decades progressed particularly interesting. The film did a good job of also showing how the rigid Maoist China gradually became more Westernized and materialistic, e.g. bicycles in the 1970's vs. BMW in the 2000's. Good job! (except the one Canadian actor that they could find. He was terrible, but thankfully was only in it for a minute).
Cynthia S.
Super Reviewer
½
A really heart breaking movie. Performance of each character was really good. Made me sad to tell you the truth.
Dead Angel
Super Reviewer
Tángsh?n Dàdìzhèn (aka "Aftershock" or "Aftershocks"), dedicated to 240,000 victims of the 1976 Tangshan earthquake, claims to commemorate the rebirth and restoration of Tangshan. Now if only (presumably) good intentions were quite enough to make a good movie... Aftershock has a script that's not just been-there-seen-it-all one, but also a bit too messy. The movie works neither on personal account of any of the individual characters nor as a whole. Despite being stuffed with heavily emotional sequences, it failed to make me feel sympathetic enough to care for any of the characters, let alone bring a lump in my throat or shed a tear. With all due respect for the victims of the earthquake, this emotional drama (not a docu-drama) doesn't do justice to a movie-viewer. The actors seem competitive, but they could have succeeded in saving the shaky script only that far. I don't find "Tángsh?n Dàdìzhèn" recommendable enough, but being aware of my taste (which happens to fall in minority more often than not) I won't be shocked if you do. To start with, just look at the critical response it has received. It's not awful; it's just that it fell short of my expectations.
familiar stranger
Super Reviewer
Aftershocks (Tangshan dadizhen) Quotes
There are no approved quotes yet for this movie.