Against All Odds
(1984)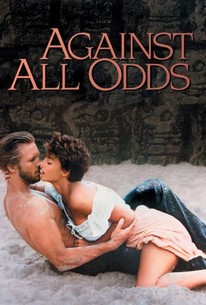 Movie Info
Once past the pulse-pounding car-chase opening sequence of Against All Odds, sharp-eyed viewers will be able to figure out that this 1984 suspenser is a remake of the 1947 noir classic Out of the Past. Forced off the field due to a shoulder injury, football player Terry Brogan (Jeff Bridges) takes a job with crooked nightclub owner Jake Wise (James Woods). Brogan isn't fond of his new boss, but he isn't much better himself, having previously shaved points during a game at Wise's behest. When Wise's girlfriend Jessie Wyler (Rachel Ward) skips town with a great deal of money, Brogan is sent to fetch her back. Once in Mexico, Brogan and Wyler fall in love, weakening his resolve to go through with his job. When Brogan fails to carry out his orders, another of Wise's hired hands (Alex Karras) is sent out to retrieve both Brogan and Wyler. During a struggle, the thug is killed by Wyler, who for the first time in the film demonstrates that she isn't the victim of circumstance she pretends to be. Upon his return to the U.S. -- minus Wyler, who's taken another run-out powder -- Brogan becomes enmeshed in a shady Chinatown-like business deal involving Wise and a real-estate fat cat (Richard Widmark) -- who happens to be married to Wyler's mother. Like Past, Against All Odds is based on the Daniel Mainwaring novel Build My Gallows High, and Jane Greer, who played the Rachel Ward character in the earlier film, is here cast as Ward's mother. Phil Collins wrote and sang the Oscar-winning theme song.
Critic Reviews for Against All Odds
Audience Reviews for Against All Odds
Chris Browning
Super Reviewer
Despite the lovely locations, a nice car chase sequence, cool soundtrack, and even a top-class cast, this movie is somehow missing something. I think the storyline could have been improved.
Good thriller and love affair story. Aussie Rachel Ward seems bloody hot and sexy in her naked scene.
Dean McKenna
Super Reviewer
Against All Odds Quotes
| | |
| --- | --- |
| Jessie Wyler: | He said the only way I'd away from him would be to kill him. |
| | |
| --- | --- |
| Jessie Wyler: | I think about you. |
| Terry Brogan: | I think about you too lady. Let's leave it at that. |
| | |
| --- | --- |
| Terry Brogan: | So what is it you don't like exactly, football players, tacos or beer? |
| Jessie Wyler: | I like tacos and beer. |
| | |
| --- | --- |
| Jake Wise: | What the hell made you think you could handle Jessie? I bet you used to bring her home flowers. |
| Terry Brogan: | No, you don't have to do that when you're living in a jungle. You just take her outside and show her what tree you're gonna do it under tonight. Hell, we had lots of trees. |