Airport
(1970)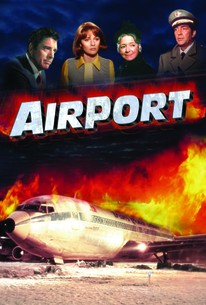 Movie Info
In this disaster film, a nutcase detonates a bomb aboard a plane, leaving the flight and ground crews to figure out how to safely land their dangerously-crippled vessel during a terrible blizzard. The bulk of the story centers on the ways in which people deal with the situation.
Critic Reviews for Airport
Audience Reviews for Airport
½
A little hokey to be sure but eminently watchable, Helen Hayes IS endearing but her oscar was surely a sentimental one and really should have gone to Maureen Stapleton who gives a real and very touching portrayal of a woman in an impossible situation. The rest of the cast is fun, Burt Lancaster and Dana Wynter inject a touch of reality as they come to grips with the end of their marriage in a wonderfully played scene. Jacqueline Bissett is young and beautiful, the chicest stewardess to ever fly the friendly skies.
One of the original disaster films that spawned an entire new genre of films, Airport is a good little film. However, there's nothing too special about this one. Airport is entertaining, but lacks terrific character development and has cringe worthy dialogue at times. The performances are good, and the cast is pretty impressive, however the plot is hit and miss, and the direction seems unfocused. Nonetheless, if you love a classic thrill ride, this is worth checking out; just don't expect anything great with the film. I liked the film, but it's nothing special. The film set the standard of every other disaster flick that was to follow. The film is a bit too predictable, but in the end it's silly fun. The film tends to go from serious to almost tongue in cheek. Of all the disaster films out there, I find that this is one of the few more unintentionally humorous ones. I'm not saying the picture is bad, but there are moment in the film where you're like, did this happen? Considering that this is drama, you'd expect something a little more serious. This film could have been much better, and the screenwriters could have toned down on the cheesy dialogue and poor tongue in cheek moments. Otherwise, this is an entertaining picture that delivers effective thrills from start to finish, and despite its flaws, it's worth watching you love 1970's cinema. Just don't expect a great film. Enjoyable, but you can see that the film had the potential of being so much more than what it turned out to be.
The first of the Airport disaster films. I remember seeing most of them on Sunday afternoons on TV as a young kid. Big budget blockbusters for the time with an all star cast! I think there were three sequels in the end Airport '75, '77 and '79 concorde! Check them out, still pretty good films and few disaster films about planes have been made since to this standard. Not too mention it inspired two of the funniest spoof films (Airplane) as well!
Airport Quotes
There are no approved quotes yet for this movie.