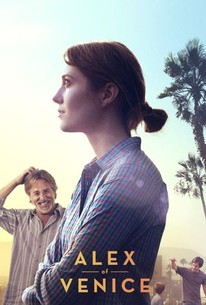 Alex of Venice
2014, Drama, 1h 26m
31 Reviews
1,000+ Ratings
What to know
critics consensus
Alex of Venice does immensely likable things with its overly familiar parts, adding up to an agreeable calling card for debuting director Chris Messina. Read critic reviews
Where to watch
Rent/buy
Rent/buy
Rent/buy
Rate And Review
Movie Info
After her stay-at-home husband (Chris Messina) leaves her, a workaholic lawyer (Mary Elizabeth Winstead) finds that she is not completely up to the tasks of caring for her young son, ailing father (Don Johnson) and household all by herself.
News & Interviews for Alex of Venice
Audience Reviews for Alex of Venice
Great story and acting, one of the usual VOD films that deserved greater recognition. I am forever baffled why audiences give these art house films bad reviews, they are storytelling films with depth and interesting characters. This a slow and beautiful journey that rewards the viewer with something that mainstream films avoid.

Chris Messina is starting to become a force to be reckoned with. Though he has been a star of indie faire for the past ten years or so, he broke out in the Hulu (formerly Fox) show "The Mindy Project." In this indie film he is both the director and a bit player in a story of a young woman beginning again while still at the start of her life. Though it is a film we have all seen before, it is flavored by Messina's domineering presence, just off-screen. Read more at http://www.bluefairyblog.com/reviews/2015/10/1/alex-of-venice

THE MESSINA COMPLEX - My Review of ALEX OF VENICE (3 Stars) Mary Elizabeth Winstead (SCOTT PILGRIM VS. THE WORLD, THE THING) has such a beguiling screen presence, a natural beauty who radiates intelligence and heartbreak with equal measure. She's in a league with Laura Linney, Debra Winger, and Jodie Foster, strong female actors whose faces are sometimes enough to keep you watching almost any movie they headline. Although ALEX OF VENICE is a fairly low stakes slice of life drama, Winstead and an incredible cast make for a pleasantly entertaining film experience. Making his feature directing debut is actor Chris Messina (THE MINDY PROJECT, ARGO), and his sun-dappled, naturalistic approach appears to pay homage to COMING HOME-era Hal Ashby. Alex is an environmental attorney whose house-husband (Messina) grows weary of their setup and leaves her with her son and ailing father (Don Johnson). Picking up the pieces, Alex must navigate an important case, family problems, and her own parental failings. Enter her loose cannon sister Lily (Katie Nehra, who co-wrote the screenplay with Jessica Goldberg and Justin Shilton) and Alex has her hands way too full. What follows is a sweet, charming, lovely film about figuring out how to navigate through a very complicated world. At times the story defies credibility, as when Alex strikes up a relationship with a defendant (a charming Derek Luke) she's prosecuting. I found it very hard to believe neither would discuss the conflict of interest or what would happen when one of them loses the case. This type of omission seems out of character for someone like Alex, who may stumble through life but who is clearly much smarter than that. Alex's dilemma is that she just needs to stop being so self-centered, care a bit more about her son (a terrific performance by Skylar Gaertner), and let go a little. She's your classically uptight character in a pencil skirt who's one hit of Ecstasy away from having more fun in her life. Providing said mood enhancer and winning an MVP award is Nehra. As a writer, she's given her actor self a great, scene-stealing part. The chemistry she shares with Winstead is so snappy and believable, and she's taken a stock character, the slutty sister, and given her such lovable shading, great humor, and unexpected depth. I look forward to watching Nehra blossom in her duel careers. Another revelation is Don Johnson, who finds the ache and panic behind his eyes as a father slowly losing control of his life. As a struggling actor cast in a local production of THE CHERRY ORCHARD and who can barely function in his daily life, Johnson is stunning. This role hits the sweet spot of an aging actor who still looks great but isn't getting MIAMI VICE attention anymore. It's easy to believe he knows where this character lives, and a Johnson career revival is right up there with PULP FICTION-era John Travolta or THE WRESTLER's Mickey Rourke. Technically, this is a beautiful film, with Doug Emmett's cinematography and Linda Sena's production design perfectly evoking Venice, CA in all its current beauty. This beach community has always felt a little trapped in the 70s, and ALEX OF VENICE harkens back to that era of small humanistic stories. Great close-ups of Winstead's face as she fights back tears, or Johnson's shifting eyes revealing his inner turmoil become the great takeaways. You may not remember what happens in this film, but you'll certainly recall how it made you feel. Side Note: At the screening I attended, Jane Fonda, who starred in THE NEWSROOM with Messina, very generously and professionally moderated the Q&A. Not only did she look great, but she had total control of the proceedings, never once allowing it to be about her, keeping the focus rightly on Messina and his film. Proving herself fully engaged with the material and current styles of filmmaking and storytelling, Fonda should be in charge of every Q&A from here on out. Everyone else, thanks for playing, but Jane's got it covered!
See Details