Aleksandr Nevskiy (Alexander Nevsky)
(1938)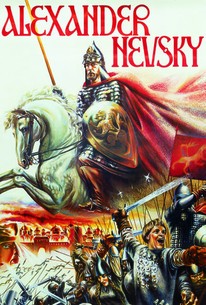 Movie Info
Like many of Eisenstein's best films, Alexander Nevsky was conceived as a morale-booster, aimed at stirring up Russian patriotism. It is set in the 13th century, but the villainous Teutonic Knights are obviously meant to represent the burgeoning threat of Hitler's hordes. With Russia besieged by both these knights and by the Tartars, only a charismatic leader can save the populace from these barbaric baby killers (yes, we see the villains tossing screaming infants into bonfires!) The hero of the piece is the legendary Prince Alexander Nevsky, portrayed by Nikolai Cherkasov, who bears a striking resemblance to Gary Cooper. The saving turnaround for Nevsky is the battle of ice-covered Lake Peipus in 1242. This bravura sequence is staged in spectacular fashion, underlined by the specially-commissioned music of Sergei Prokofiev.
Critic Reviews for Aleksandr Nevskiy (Alexander Nevsky)
Audience Reviews for Aleksandr Nevskiy (Alexander Nevsky)
Totally unrelevant to today and simply boring to watch. I'm not doubting the genius of Sergei Eisenstein but I just couldn't watch.
Sophie Burgess
Super Reviewer
½
Sergei is all about the framing, comrade. One message is clear: the Russians *really* hated the Germans! Interesting piece of cinema history/propaganda as this came out on the brink of WW II recounting the heroics of Alexander of Russia as he repelled the German invaders of 1242. The German helmets and armor designs are not far off from Orc garb, and one religious leader looks like Marty Feldman in "Young Frankenstein," cowled robe and all. The battle scenes are staggering in scope, using hundreds or maybe even a thousand people and horses. Unfortunately they drag on too long, as does the time spent on an uninteresting romantic triangle subplot.
Doctor Strangeblog
Super Reviewer
Illustrious portrait of a heroic Russian figure demented by a dutiful force in a spiritual defense.The film may display images of pious behavior but haste not,this is an epic drama and the people are who matter most,not ideologies.Magnificent score by Prokofiev.
Dimitris Springer
Super Reviewer
Aleksandr Nevskiy (Alexander Nevsky) Quotes
There are no approved quotes yet for this movie.