The Alien Factor
(1978)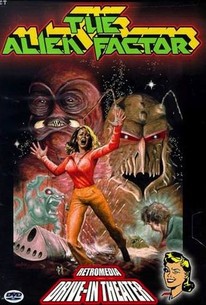 AUDIENCE SCORE
Critic Consensus: No consensus yet.
Movie Info
A spaceship crashes in a sparsely populated area of Earth, and three horrific aliens survive the accident. The grotesque extraterrestrials soon begin to terrorize the local residents, until one intrepid soul chooses to fight back. This low-budget science-fiction adventure was completed six years before its release.
Rating:
NR
Genre:
,
Directed By:
In Theaters:
Runtime:
Studio:
Cinemagic
Critic Reviews for The Alien Factor
There are no critic reviews yet for The Alien Factor. Keep checking Rotten Tomatoes for updates!
Audience Reviews for The Alien Factor
½
I watched two movies this week: "The Alien Factor" and "Sisters" (Tina Fey, Amy Poehler and a sorry bunch of SNL regulars). Don't ask me why I thought "Sisters" might be good, but it was clearly the most boring movie I've ever seen -- ever. I watched the "Unrated" version which, except for some gratuitous drug use, was PG at best. I finally had to turn it off half way through. "The Alien Factor" was the opposite. It's not a super-charged Marvel movie, not a technically superb movie, not a special effects blow-out movie, but that's part of its charm. I like it for what it teaches in the art of low budget / no budget indie filmmaking. Like, how do you convert a 30 minute short into a 82 minute feature? Number 1: have three monsters, not just one -- that chomps up a lot of minutes. Number 2: have lots of walks and runs through the woods, supplemented by a couple car rides and a motorcycle ride. Yet more minutes. But what was "Blair Witch" but a long walk in the woods? "The Alien Factor" is good in that it forms a baseline minimum for what a cult movie needs to achieve in the form of wardrobe, locations, dialogue, story and effects. The first two aliens weren't too bad, but the third, the Lemoid, was terrible. Maybe it was just the transparency of the monster (it would be acceptable with today's green screen effect) and lack or coordination with Ben Zachray's movement (also not as much of a problem today), but today most creative high school kids can do as well. Too, the hospital operating room -- or doctor's office -- was just a white sheet hung on the wall. Would also have been a good place for green screen, but that's something far easier to achieve today, even with a platform like iMovie. The sheriff's office was spare, but a sheriff's office in some small counties and townships won't be too much more extravagant. Not a problem. I think what I'm saying is that if you're a filmmaker and want to make your own horror / monster / alien movie, this is a good place to start for reference. There's nothing here you can't do for yourself, and if you can achieve the fame and cult status of Don Dohler in the process, then you're on your way. Good luck. Have fun!
Logan Fry
Horrible, boring, and more than obviously on a very low budget. Don't spend your time.
½
Hilariously bad, the effects were awful, the aliens were so cheesy, and the characters would make you laugh out loud. The plot is full of holes and so many turns that you might as well give up trying to follow it and just enjoy the laughs from the badness. Essential viewing for any B-movie watcher.
Wes Shad
The Alien Factor Quotes
There are no approved quotes yet for this movie.