Alien Nation
(1988)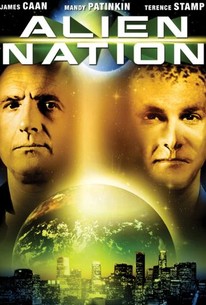 AUDIENCE SCORE
Critic Consensus: Alien Nation takes the interesting premise of extraterrestrials living among us and doesn't do enough with it, emphasizing a police procedural plotline over the more intriguing sci-fi elements.
Movie Info
When some aliens known as Newcomers set down on Earth and try to integrate themselves into 1990s Los Angeles, racial-like tensions erupt, providing the backdrop for this odd, made-for-television science-fiction thriller. James Caan stars as Detective Matthew Sikes, a human cop who is less than pleased when he is assigned a Newcomer as a partner (Mandy Patinkin) to help investigate a murder.
People Who Like this movie also like
Critic Reviews for Alien Nation
Audience Reviews for Alien Nation
I enjoyed the hell out of this. Check out this premise: In the futuristic world of 1992, Aliens have landed and we've granted them citizenship in our society. When James Cann's partner is killed, he's teamed up with one of these Aliens to help solve the crime. That alien is played by Mandy Patinkin. From there it's a fairly standard buddy cop film, but with some really funny gags. Well worth checking it out.
Ken Stachnik
Super Reviewer
A great film. A fantastic mixture of science fiction, suspense, comedy and action. A genre-bending classic that you cant help but love. A wonderfully entertaining winner that's just a great buddy-cop movie with lots to offer. A great new twist on a familiar background. A smart, funny and action-packed thrill-ride with solid performances and great special effects. James Caan and Mandy Patinkin are excellent together with their unique and effective chemistry. One of the coolest sci-fi tales of the 80's decade with Terminator and Aliens.
½
A race of alien beings known as newcomers crashland on Earth and become the newest immigrants in Los Angeles. When some of them are found executed a bigoted detective and his rookie newcomer sidekick investigate. Alien Nation is a buddy cop/sci-fi hybrid that contains a lot of the usual 80s action flick cliches; the burned out, alcoholic cop, gratuitous car chases and stranger in a strange land analogies are all very familiar. The sci-fi spin does give it all a little freshness however, and although the racial metaphor is a little clumsy, Caan and Patinkin's deadpan delivery show some decent chemistry together with some amusing odd couple comedy. Unfortunately the script is purely by the numbers including a couple of major plot elements that are just sci-fi mumbo jumbo. Terence Stamp also might as well have phoned in his performance as the villain leading up to a particularly weak conclusion which drags an otherwise entertaining film back down to mediocrity.
Alien Nation Quotes
There are no approved quotes yet for this movie.