American Adobo
(2002)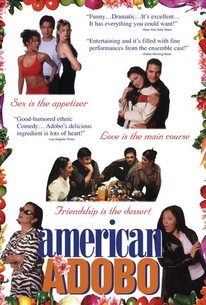 Movie Info
Five Filipino-American friends living in New York City deal with love, sex, friendship, careers, and cultural identity in this romantic comedy-drama directed by veteran Philippine actress Laurice Guillen. Tere Sanchez (Cherry Pie Picache) is an accountant who is in her early forties, single, and not especially happy about it. Tere is an excellent cook, and often throws dinner parties for her friends, and the arrival of her old friend Lorna (Sol Oca) from Manila is all the reason she needs to invite her friends over for a feast. Mike (Christopher De Leon) is a former political journalist who is now enjoying the fruits of a lucrative career as a newspaper editor, but he wonders if he left his principles behind along the way; he's also feeling unfulfilled in his marriage to Gigi (Susan Valdez-LeGoff). Gerry (Ricky Davao) is a advertising copywriter who is afraid to tell his friends and family that he's gay, though circumstances may well drive him out of the closet. Raul (Paolo Montalban) is a good-looking ladies' man who prefers to date Caucasians, and lacks a certain amount of emotional maturity. And Marissa (Dina Bonnevie) is on the surface a well-to-do social butterfly; however, deep inside she's woefully insecure, and is afraid to confront her boyfriend Sam (Randy Becker) about his constant infidelity. Meanwhile, Lorna confesses that while she's married to a wealthy man in Manila, she's terribly unhappy, and is considering staying in America as an illegal alien. American Adobo was the first American-Philippine co-production to open in three major American cities at once (New York, Los Angeles, and San Francisco); incidentally, adobo is a spicy chicken or pork dish popular in the Philippines.
Rating:
R (for sexuality and language)
Genre:
,
Directed By:
Written By:
In Theaters:
On DVD:
Box Office:
$151,417.00
Runtime:
Studio:
Outrider Pictures
Critic Reviews for American Adobo
Audience Reviews for American Adobo
½
As the film loses its grip on its multiple stories, the title begins to suggest an overheated stew bubbling out of its pot. By the end of the film, the intersecting dramas and histrionic performances have spilled all over the floor, so to speak.
Lee Mayo
I thought this film was entertaining and interesting. Good character development, fine story. Sometimes very funny. It is an uncomfortable mix of comedy and melodrama though. The actring is quite good.
James Higgins
½
Movie Review: "American Adobo", "The Debut", "Better Luck Tomorrow", "Charlotte Sometimes" This is my ratings of some ASIAN/AMERICAN films that I watched. I did one on "Charlotte Sometimes" and reposted it here again. [color=pink]"American Adobo" (2002)[/color] [color=pink][img]http://images.rottentomatoes.com/images/movie/coverv/70/207470.jpg[/img]Hmmm... where do I begin... lets see... The cast probably wanted to do this movie because of the possible American Market it would be released to. Unfortunately, they should have pushed for a better script and better director. Not to say that the director is not good... but to be commercially successful in America, you need to have a director AND A WRITER with the same sense of structure, character arch and theme that most audiences can identify with. The lack of structure (as a writer) really got me. It was horrible. The characters were stereotypes of the Filipinos I grew up with. And the writing style and lack of subplot dripped with exposition throughout the whole movie. Did someone not mention to the writer that Voice Overs are KINDA bad? And unless you can write like Alan Ball, your VOICE OVERS better rock! This movie was a poor attempt to cross over to the American public. And if American Filipinos enjoyed the film, hmmm... they need to get out more cause laughing at yourself is one thing (and it won't get you far as a filmmaker), identifying with characters in a universal appeal is much better filmmaking. [/color] ********************** [color=yellow]"The Debut" (2002)[/color] [color=yellow][img]http://images.rottentomatoes.com/images/movie/coverv/69/211669.jpg[/img]Decent film. But still, do Filipino filmmakers think that the american audience won't get it? There was so many over the top scenes that push the tradition of Filipino's on your plate like you wouldn't believe... but you don't have to. It's about story. From story and characters comes the traditions and cultures. You don't have to draw attention to it, just have your Filipino/American characters convey everything through their simple dialogue and subtle actions. [/color] [color=yellow]One scene in particular (if you're F.O.B. you'll get it) is when the lead character has to 'bless' the elders. And he was acting like he didn't 'get it'. And was awkward doing it. COME ON... You know what to do... you're 17 years old... you've been there done that... YOU DON'T HAVE TO LIKE IT... but don't act like you've never been aware of such a thing. The writer/director at that point proved he was making this Filipino lead an AMERICAN oblivious to culture yet embarassed of his own culture. How stupid is that?[/color] [color=yellow]A few characters were on the "O.A" side but most of the characters were good. Altough the film got a little tiring since the party (The Debut) seemed to last FOREVER... but it was just one night. Yikes. [/color] [color=yellow]This is definately a lesson on how NOT to make a Filipino/American movie. [/color] [color=yellow]They were on the right track but missed their mark, and if this is a new standard from ASIAN/American movies, everything after should easily raise the standard. Because this was far from compelling in movie making or story telling.[/color] ********************** [color=magenta]"Better Luck Tomorrow" (2003)[/color] [color=magenta][img]http://images.rottentomatoes.com/images/movie/coverv/77/211877.jpg[/img]Okay - the filmmakers got it right with this one. A pretty much full Asian cast based on a true story. But compelling, deep, flawed and wonderful characters. Thanks to Justin Lin (producer/director)![/color] [color=magenta]The characters were skillfully crafted, the conflict was real, the absurdity of straight 'A' students getting involved with a situation like this was out there yet interesting and completely acceptable in this world... And what was so bad with the ending? NOTHING. It seemed like a blatant tribute to "The Graduate"... and that's a great movie.[/color] [color=magenta]This movie was inspirational. It was how movies from asian filmmakers using asian actors should be made. It completely held the universal emotions that any 'American film' would have and was not over-the-top, was not overly expositional and was NOT overly acted.[/color] [color=magenta]GO RENT IT NOW... [/color] ********************** [color=cyan]"Charlotte Sometimes" (2003)[/color] [color=cyan][img]http://images.rottentomatoes.com/images/movie/coverv/35/212635_thumb.jpg[/img] There's a good movie that you should rent to learn about LIGHTING, MOOD, CHARACTER and STORY TELLING [b]WITHOUT[/b] too much exposition and dialogue.[/color] [color=cyan]It's called, "CHARLOTTE SOMETIMES" (2003)[/color] [color=cyan]After watching it I thought to myself, "Wow... finally a movie that doesn't have to explain every single thing to get the point across. Finally, a movie with scenes that were NOT over written" - as many of the scenes on the VPL are.[/color] [color=cyan]Good movie. Really good - for a small tiny indie film by nobody. It's dark, edgy, deep, conflicted and quiet. The director let the camera tell the story. Not much dialogue, lingering scenes, deep emotion and scarred characters. The women were beautiful and it was pretty much a full asian cast shot in Silverlake, CA.[/color] [color=cyan]Don't be sleepy when you watch this movie. But watch it for a good lesson in direction and character's actions tell more about who they are instead of words.[/color] [url="http://www.suntimes.com/ebert/ebert_reviews/2003/05/050201.html"][size=4][color=cyan]Ebert's Review[/color][/size][/url]
Glenn Magas
American Adobo Quotes
There are no approved quotes yet for this movie.
Discussion Forum
Discuss American Adobo on our Movie forum!