An American in Paris
(1951)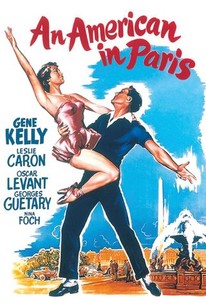 TOMATOMETER
AUDIENCE SCORE
Critic Consensus: The plot may be problematic, but such concerns are rendered superfluous by Gene Kelly and Leslie Caron's star power, the Gershwins' classic songs, and Vincente Minnelli's colorful, sympathetic direction.
An American in Paris Photos
Movie Info
Gene Kelly does his patented Pal Joey bit as Jerry Mulligan, an opportunistic American painter living in Paris' "starving artists" colony. He is discovered by wealthy Milo Roberts (Nina Foch), who becomes Jerry's patroness in more ways than one. Meanwhile, Jerry plays hookey on this setup by romancing waif-like Lise Bouvier (Leslie Caron) -- who, unbeknownst to him, is the object of the affections of his close friend Henri (Georges Guetary), a popular nightclub performer. (The film was supposed to make Guetary into "the New Chevalier." It didn't.) The thinnish plot is held together by the superlative production numbers and by the recycling of several vintage George Gershwin tunes, including "I Got Rhythm," "'S Wonderful," and "Our Love Is Here to Stay." Highlights include Guetary's rendition of "Stairway to Paradise"; Oscar Levant's fantasy of conducting and performing Gershwin's "Concerto in F" (Levant also appears as every member of the orchestra); and the closing 17-minute "American in Paris" ballet, in which Kelly and Caron dance before lavish backgrounds based on the works of famed French artists. ~ Hal Erickson, Rovi
Critic Reviews for An American in Paris
Audience Reviews for An American in Paris
An American dancer/artist and piano player pursue Paris ladies with the help of a French singer. Delightful and fun, as most classic film musicals are, An American in Paris features a wonderful score by the Gershwins and some truly great dance sequences by the legendary Gene Kelly. The plot is fairly basic, the one wrinkle being that the Parisian singer and the American are pursuing the same girl, but director Vincente Minnelli carries it at a solid, quick pace. It is nonetheless unfortunate that almost all Gene Kelly musicals contain an extended ballet sequence that does nothing to advance the plot; without this, as with Singing in the Rain, An American in Paris might have been a four-star film. Overall, though it's largely insubstantial, this film is nevertheless fun to watch.
Jim Hunter
Super Reviewer
Using the music of George Gershwin as a foundation, Vincente Minnelli directs this Oscar winner about an American G.I. named Jerry living as an expat in Paris who, while trying to make a living as a painter, not only falls in love with Paris, but also with a young perfume shop clerk named Lise. Unfortunately, Lise is engaged, unbeknownst to Jerry. Not only that, but he's also unaware that a woman who has taken an interest in his work is actually more interested in him than his paintings. Okay, so the story isn't all that impressive, and neither are the characters, but the film is still a success, if only because of the whole style over substance thing (in one of the cases where this is ultimately good instead of bad). With Gene Kelly in the lead, you know there's gonna be some great song and dance numbers, and this film doesn't disappoint. The crowining achievement here is the 17 minute ballet that makes up the film's climax: a real shostopper of a number set to the Gershwin piece the film is named after. In this one sequence alone, the audience is treated to a excellent narrative told through dance and music (but no words) that features soem excellent Impressionst style costumes and sets. It's a great moment, and the whole film could have been excellent had it all been like this. It's not though, but I still kinda like it. The characters are likeable, even though not much is done to really develop them substantially or make you care about them immensenly. The perforamnces are at least decent. Kelly is of course terrific, and Leslie Caron does a good job in her film debut as Lise. Nina Foch is also good, but I could have used more of her. All in all, a decent musical, but nothing tremednously special. It sure could have been, but it's not. I do like it though, and think that if you have an interest in any of the cast, the director, musicals, or Gershwin, then you'd do well to give it a watch...just don't expect it to be the Oscar masteriece it was hailed as being though.
Chris Weber
Super Reviewer
Vincente Minnelli pode ser considerado um dos principais responsáveis por elevar o gênero de filme musical ao status de arte. Ainda que não seja a melhor de suas obras (estas são Agora Seremos Felizes e Gigi), Sinfonia de Paris impressionou o bastante na época a ponto de levar seis estatuetas na noite do Oscar, incluindo a de Melhor Filme. Escrito por Alan Jay Lerner (mais tarde responsável por Gigi e My Fair Lady), o roteiro de Sinfonia de Paris não escapa do arquétipo padrão de musicais da Metro: como perfeitamente descrito por Frank Sinatra em Isto Era Hollywood, "garoto conhece garota, garoto perde garota, garoto canta e consegue a garota." Neste caso, o garoto é Jerry Mulligan (Gene Kelly), ex-soldado que agora se dedica à pintura na cidade das luzes. A garota é uma estreante Leslie Caron que, apesar de ter alcançado grande sucesso em outros filmes, aqui claramente demonstra não ter total consciência do que fazer quando não está dançando. O lado subversivo do romance é que, ao mesmo tempo em que vivem um affair, ambos vão para a cama de pessoas diferentes (ou assim subentende-se): ela para a de um cantor amigo de Jerry (Georges Guétary) e ele para a de uma mulher mais velha que patrocina sua arte (Nina Foch). Esta ruptura de caráter que faz do personagem de Kelly um semi-gigolô o torna mais interessante do que o tradicional "sujeito boa praça" interpretado pelo ator durante toda sua filmografia (e a decisão de vestir o bailarino em collants revela mais sobre o Minnelli do que pode ficar explícito na tela). A história é, no entanto, apenas um pretexto para a apresentação de clássicas canções do vasto repertório de George Gershwin (incluindo "I Got Rhythm" e "S' Wonderful"). Os números musicais possuem uma série de predicados próprios, embaladas pela sempre criativa coreografia de Kelly e pelo fantástico tato na direção de arte de Minnelli. De fato, torna-se tão fácil se deixar seduzir pelo seu "cinema dos sonhos" (como definiram os críticos da Cahiers du Cinema) e acabar suprimindo as falhas narrativas do filme. Mas o que fez Sinfonia de Paris realmente conquistar seu lugar na história do cinema foram os frenéticos dezoito minutos finais: uma sequência única de balé onde o casal revive sua história de amor utilizando pinturas de consagrados artistas impressionistas franceses como cenário. É neste momento em que o perfeito casamento da arte de Kelly e de Minnelli criam algumas das mais belas imagens já capturadas em película. Se a cena final é apressada e obviamente calculada é porque o diretor sabia que nada conseguiria superar aqueles momentos. Melhor mesmo é se retirar enquanto se está no topo.
Matheus Carvalho
Super Reviewer
An American in Paris Quotes
There are no approved quotes yet for this movie.