Anacondas: Trail of Blood
(2009)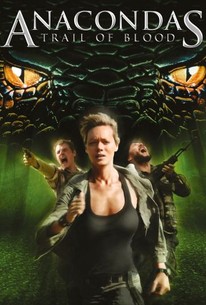 AUDIENCE SCORE
Critic Consensus: No consensus yet.
Anacondas: Trail of Blood Photos
Movie Info
A dying mogul wages one last, desperate bid to extend his life, in the process pitting a beautiful herpetologist against the very slithering horror that she helped to create. Murdoch (John Rhys-Davies) is convinced that he can cheat death by drawing on the regenerative power of the elusive blood orchid. But when Murdoch's doctor tests the experimental serum on a baby snake, the tiny serpent grows into an unstoppable monster overnight, devouring the doctor whole before breaking free from the lab and embarking on a gruesome rampage. Now, it's up to fearless herpetologist Amanda (Crystal Allen) and her team of scientists to collect the coveted orchids while avoiding both Murdoch's gang of heavily armed thugs, and the giant abomination that will prey on anything or anyone who crosses its path. ~ Jason Buchanan, Rovi
Critic Reviews for Anacondas: Trail of Blood
Audience Reviews for Anacondas: Trail of Blood
Well this was just an extension of the third film and like the third film its very very poor in pretty much every aspect. Again I can't recommend this film in any way as everything is bad. The effects are again terrible with appalling CGI on the anacondas alongside very dubious CGI blood effects and dodgy movement animation on humans being eaten by the snakes. This all takes place in a what looks like a local woodland area (they didn't scout far for this folks) and generally in the daylight. This naturally doesn't help the effects as you can see how bad they are very easily, nasty videogame-esque visuals. The casting is again all unknowns (of course) with one or two returning from the third film. Linden Ashby pops up to continue his D-movie career, he's the only biggish name here apart from John Rhys-Davies who returns...for some reason. Put it this way...if you thought the third was bad then there's no point watching this. In fact I would give both this and the third film a miss as both are just one big bad film chopped into two and utterly rubbish. Holy puff adder Batman! talk about destroying a franchise sheesh!.
Phil Hubbs
Super Reviewer
Fourth and hopefully final film in the Anacondas series. This film still has every bit of awful filmmaking as the last three films that came before it. This is a poorly made film that looks cheap, and has no sense of delivering a good, thrilling story. The Anacondas films are bad, but this is among the worst films I've seen in this franchise. There have been some good nature gone wild films, but the thing with this series is that it just isn't interesting. The films weak plot, poor performances of the cast, really brings down the film. This is standard low-budget trash with no direction. This is a film that scraps the bottom of the barrel of bad ideas, and doesn't thrill the viewer. This is bad filmmaking at its worst. This film looks cheap, has a bad cast and no plot. If you're looking for a horrible film, then this third low-budget straight to DVD sequel to Anacondas is yet another bad film in a series that never should have happened. The first film was bad, but making three awful sequels is beyond terrible. Don't watch expecting anything good, this a failure in terms of a good horror film, and it really doesn't provide you with good entertainment, unless you're looking for the ultimate in awful entertainment, then this is one of those films to check out. You can guess that considering that this is a made for TV movie, that this will be horrible. Don't waste your time watching this. This yet a sequel that fails to delver what the viewer wants. Spend your time watching something else.
Better shot than 3, but it's still a total crap-fest. 2 is far and away the best in the series.
Ken Stachnik
Super Reviewer
Anacondas: Trail of Blood Quotes
There are no approved quotes yet for this movie.