And Soon the Darkness
(2010)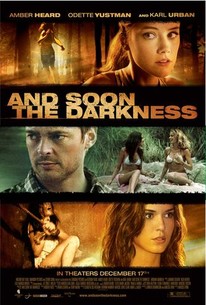 And Soon the Darkness Photos
Movie Info
Stephanie (Amber Heard) and Ellie's (Odette Yustman) vacation to an exotic village in Argentina is a perfect 'girl's getaway' to bask in the sun, shop and flirt with the handsome locals. After a long night of bar-hopping, the girls get into an argument, and Stephanie heads out alone in the morning to cool off. But when she returns, Ellie has disappeared. Finding signs of a struggle, Stephanie fears the worst, and turns to the police for help. But the local authorities have their hands full already - with a string of unsolved kidnappings targeting young female tourists. Skeptical of the sheriff's competency, she enlists help from Michael (Karl Urban), an American ex-pat staying at their hotel. Together they go on a frantic search for Ellie, but Stephanie soon realizes that trusting his seemingly good intentions may drag her farther from the truth. With danger mounting, and time running out, Stephanie must find her friend before darkness falls.-- (C) Anchor Bay
News & Interviews for And Soon the Darkness
Critic Reviews for And Soon the Darkness
Audience Reviews for And Soon the Darkness
An ok remake of a film from 1970 with the same name. This one is set in Argentina, which seems to be the only real change. The fact I not heard of it and it was made last year and stars the lovely Amber Heard was a worry. Sure enough this is largely a fairly slow, dull, drama/thriller about the perils of being off the beaten track if you're not careful. The last 3rd of the film was ok as we finally get some action, but it has a made for TV feel to it. There have been many better horror films on a similar theme with Turistas and Hostel, Train. For a thriller I would go with either Hush or Shuttle. Even Amber Heard fans might find this too slow.
Amber Heard puts on a good performance, but this movie sucked. The plot is so shallow; the movie is just boring. Two girls go vacationing in a foreign country and one goes missing. The locals are suspicious looking and seem like they're hiding something. It's all been done before. The sub plots in this movie seem interesting like the Urban's character Michael whose girlfriend was abducted some months ago, and Stephanie's boyfriend/trust issues, but those sub plots are painfully shallow and are only lightly touched upon in the film. It was completely useless to even add any of it. The movie is pretty much Heard running around screaming "ELLIE WHERE ARE YOU?" and trying to survive from being killed by the corrupt locals. The plot in the beginning shows that the locals are hiding a secret, and I was actually interested to know what that secret was. However after I found out the secret was ***SPOILER*** selling tourist girls into prostitution, I was like seriously? I've already seen Taken thanks. What a predictable and boring secret to keep. I didn't like that secret at all. So dumb and I've seen it before.
½
For the most part, I liked this slightly suspenseful tourist-in-peril film, but films like TURISTAS and HOSTEL have done the Americans in peril abroad plot to death (pun intended), and actually much better. The film does have its positives though, and its relatively entertaining for what it sets out to do.
Cynthia S.
Super Reviewer
And Soon the Darkness Quotes
There are no approved quotes yet for this movie.