Antisocial
(2013)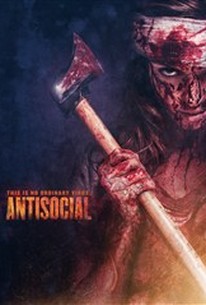 Movie Info
Five university friends gather at a house party to ring in the New Year. Unbeknownst to them, an epidemic has erupted outside, causing outbreaks around the world. With nowhere else to turn, they barricade themselves indoors with only their phones, laptops, and other tech devices. They use their devices to research the possible cause of this outbreak. Information and video footage over flow their computers as they descend further into the cause and the ensuing chaos. As the virus spreads, the mood in the house changes from fear to paranoia. Who is safe? Who can they trust? Reality becomes blurred as they slowly discover the source of the virus causing the sickness...and there is no going back.
Critic Reviews for Antisocial
Audience Reviews for Antisocial
If Pulse got together with 28 Days Later and gave birth to a TV show and that TV show was *terrible*, Antisocial would be the Bottle Episode of that show.
It may have been an unlaughable comedy. Antisocial is a technological horror film that satires the Facebook culture and student life. Yes, I like the idea of Facebook making people crazy but it was absolutely miserably executed it made me cringe. The script was terrible, cast of actors are shockingly bad, direction was non-existent. Sure, it has some nicely done editing, but they can't even have a camera that won't shake. Moral of the story, stop attempting to make bad horror films. Avoid this at all cost.
Sylvester Kuo
Super Reviewer
Antisocial Quotes
There are no approved quotes yet for this movie.