Any Day Now
(2012)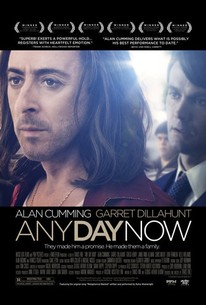 Movie Info
Inspired by a true story and touching on legal and social issues that are more relevant now than ever, ANY DAY NOW tells a story of love, acceptance, and creating your own family. In the late 1970s, when Marco (Isaac Leyva), a teenager with down syndrome who's been abandoned by his mother, is taken in by committed couple Rudy (Alan Cumming) and Paul (Garret Dillahunt), he finds in them the family he's never had. However, when their unconventional living arrangement is discovered by the authorities, Rudy and Paul must fight a biased legal system to adopt the child they have come to love as their own. (c) Music Box Films
Rating:
R (for sexual content, language, and some drug use)
Genre:
Directed By:
Written By:
In Theaters:
On DVD:
Box Office:
$200,002.00
Runtime:
Studio:
News & Interviews for Any Day Now
Critic Reviews for Any Day Now
Audience Reviews for Any Day Now
½
I'll just tell you right off the bat that this is some heavy stuff. I mean it is about a gay couple trying to keep custody of a mentally handicapped teen so he doesn't go back to his junkie mom. In the late 70s. And while this was very good, all of that stuff is one of the pitfalls of this movie. It tries to juggle too many hats. Romance, gay rights, courtroom drama, family drama, throw in a subplot of Alan Cumming's character really wanting to be a professional singer...it's just a lot. Which unfortunately makes it lean into melodrama every so often. There's even a moment where Cumming is sitting in front of a mirror, looking down, and he slowly gazes up and looks in the mirror as a song starts. I am not kidding. There's also some really unfortunate hair. I don't know if it was on purpose or just bad wigs- but I digress. But on top of all that, this is still pretty good. The real reason to watch this is Alan Cumming though, who gives a fantastic performance. But this is definitely a tearjerker. Don't say I didn't warn you.
Jillian Leff
½
What a fantastic movie and well written and acted. It shows that we have come a long way as a society but it also shows that we still have a long way to go.
Jeff Lutz
½
I liked this movie mostly due to Alan Cumming and Garret Dillahunt's excellent performances as this couple who try to, unfortunately, no success to adopt a child, with down syndrome, that nobody else wants except them. Of course as everyone finds out the true nature of Rudy and Paul's relationship, it leads to a legal battle with a system that is already against them just for who they're sleeping with and aren't actually looking at the needs of a child that has thrived with them. Instead they just want to destroy the lives of two good men and the love they have for this child that truly needs it. Obviously the movie is very relevant today, probably more so than at any other time in the history of gay rights. While I think the movie is very good, thanks to the leads, especially Alan Cumming, who is absolutely fabulous here, I think the story is probably too sentimental for its own good. I think it's more concerned with trying to make you cry rather than telling an effective story of how the system simply, and pardon the pun, screwed these two over when Marco's best chance at having a happy and normal life was with these two men. I don't want to shit on the relevance, or importance of this story, because it IS a good story, but it handles its subject matter with kid gloves. I hate injustices as much as the next guy. The system we have is put into place to serve those who need it, whether they be gay, black, white, asian, hispanic, muslim, russian, or whether they have a mental disability. The system is made for justice, and no justice was served here because the two men involved slept with each other. So I think it is an important story to tell, but I think it could've been done better and more effectively than it was here, where it goes STRAIGHT for the heartstrings from beginning to end. Again, I thought it was a good story, but perhaps a bit of a missed opportunity to do something really special. Thankfully Alan Cumming and Garret Dillahunt are simply outstanding here. Alan Cumming much more than Garret. That's not taking anything away from Garret, it's just stating how good Alan was. If there's any reason, at all, to watch this movie it would be for those two. They make it work and they take sentimental script and turn it into a really good movie. I also had a problem with the ending, it's pretty tragic. If you've seen a minimum of 25 movies in your lifetime, it's easy to figure out what happens in the end. While it does help to prove a point, it feels a little exploitative to me. I was trying to come up with a metaphor with a knife being slowly pushed into your heart as you're watching the movie. Anyway my point is that if you thought the movie was sad BEFORE the ending, after it...that's a whole 'nother story. Anyway, this is a good movie elevated by the fantastic performances from the leads.
Jesse Ortega
Super Reviewer
Any Day Now Quotes
| | |
| --- | --- |
| Lonnie Washington: | That do not mean that we stop fighting for what's right |
| | |
| --- | --- |
| Rudy: | Marco didn't ask to be born to a junkie, he didn't ask to be different. |
| | |
| --- | --- |
| Rudy: | Oh it's the oldest story in the book... Boy meets girl, boy looses girl, boy kicks open the closet door and finally, meets Mr. Right. |
Discussion Forum
Discuss Any Day Now on our Movie forum!