Apartment 1303
(2007)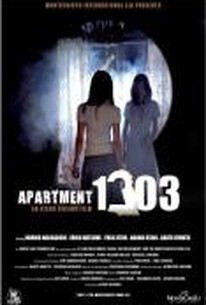 AUDIENCE SCORE
Critic Consensus: No consensus yet.
Movie Info
Adapted from the novel by author Kei Oishi, Ataru Oikawa's Apartment 1303 explores the horrific case of a purportedly haunted apartment. Sayaka was excited at the prospect of striking out on her own; so excited that she invited her closest friends to her new apartment to celebrate. In the middle of the party, however, Sayaka begins acting very strangely and lunges over the balcony to her death. But Sayaka was never suicidal, and her friends refuse to believe that she could have taken her own life. When Sayaka's sister Mariko decides to investigate, she discovers that her sibling wasn't the first to take a fatal plunge from that particular apartment. Though Mariko is by no means superstitious, she's about to come into contact with a force more evil and powerful than she could ever imagine.
Critic Reviews for Apartment 1303
Audience Reviews for Apartment 1303
½
Decent horror. Bit confused at end but usual for a j horror!
Nicki Marie
Super Reviewer
½
Japanese hotties keep leaping to their deaths from the 13th floor of an apartment building, so yet another Japanese hottie takes it upon herself to investigate the strange smells and bumps in the night (in the dark and alone, of course.) Cue mysterious figures in white lurking in the background, scary apparitions, phone calls and dreams within dreams. A cop finds out about a death in the room, and it's hello tragic back story of the ghost and big showdown with it. Bada bing, bada boom. There's nothing particularly WRONG with apartment 1303 and if you're happy to sit through yet another identical production line J Horror give it a whirl, but if you prefer something with even the slightest hint of originality or invention this will be a bit of a snooze. And why are there never any MALE ghosts in Japan??
½
Nowhere near as scary or creepy as it tries to be despite a couple of moments where I jumped out of my skin. There was none of the eerie atmosphere that tends to accompany other J-Horror of it's type, maybe I've become desensitised to these kinds of movies now after watching a fair few of them recently, they're starting to get too samey. The plot was just not intriguing enough and boredom soon set in. It wasn't completely terrible, other people did enjoy it more than me. I just thought despite the odd creepy occurence there was nothing substantial or original enough to make it stand out from the rest.
Apartment 1303 Quotes
There are no approved quotes yet for this movie.