Apollo 18
(2011)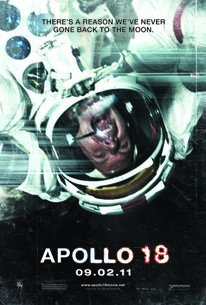 Movie Info
Officially, Apollo 17, launched December 17th, 1972 was the last manned mission to the moon. But a year later, in December of 1973, two American astronauts were sent on a secret mission to the moon funded by the US Department of Defense. What you are about to see is the actual footage which the astronauts captured on that mission. While NASA denies its authenticity, others say it's the real reason we've never gone back to the moon. -- (C) Official Site
People Who Like this movie also like
News & Interviews for Apollo 18
Critic Reviews for Apollo 18
Audience Reviews for Apollo 18
During the final NASA mission to the moon, the astronauts find an abandoned Soviet lander and begin to suspect that they are not alone. It's very safe to say that I am not a fan of the "found footage" genre, but I am a fan of the old NASA space missions and the intriguing trailer tempted me to give Apollo 18 a try. Because of the nature of the way the space missions were documented the faux documentary style actually feels a lot more genuine than most examples and the visual effects recreating the classic 60s space technology design gives the film a nice feeling of authenticity. The problem with Apollo 18 is, unsurprisingly, that it is a found footage movie. This means that it is poorly paced, badly edited and has little characterisation or plot for that matter. Not to mention that the suspense is non-existent thanks to the fact that the film has about as much atmosphere as the moon does and the revelation of what is behind these mysterious events is just another lame horror movie cliche. It's a shame really because the idea of a lost Soviet moon mission is quite interesting but as it stands, if you've seen the trailer you've seen everything Apollo 18 has to offer.
"There's a reason we've never gone back to the moon." Apollo 18 is as dull a "found footage" movie as I have ever seen, which is sad because the premise is one that could of brought about a lot of great originalities for the genre, but instead, this just chose to steal scenes from other movies. All in all, this ends up being nothing more than a prequel to a movie like Invasion of the Body Snatchers filmed like "found footage" with every scene ripping something off. So the premise of the movie is this, although our government tells us they stopped sending astronauts to the moon after Apollo 17, in fact there was actually an Apollo 18 too. This movie is made up of the footage of that mission. It starts out like any other Apollo mission, but once on the moon things get weird and two astronauts are in a struggle with something they don't understand. This movie is lazy, cliched, derivative, boring, dull, and just plain bad. There's nothing for any fan of horror or film in general to walk away with and that's when you know a movie has failed its audience. Everything is completely forgettable and in the end, even with a short runtime, the movie overstays its welcome. Pass on this one for sure.
Melvin White
Super Reviewer
dreadful piece of trash, moon rocks are really aliens, do me a favour.
Stuart Brooks
Super Reviewer
Apollo 18 Quotes
There are no approved quotes yet for this movie.