April Morning
(1988)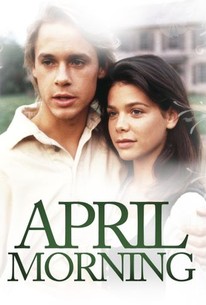 AUDIENCE SCORE
Critic Consensus: No consensus yet.
Movie Info
The morning invoked by the title of this made-for-TV drama is April 19, 1775. On that day, the "shot heard 'round the world" was fired, signalling the start of the American Revolution. Departing from known history, novelist Howard Fast (who wrote the book on which this film is based) proposes that the skirmish between the Colonial militia and the British troops on Concord Green, Massachusetts, was precipitated by fervent American patriot Solomon Chandler (Rip Torn). Later, Chandler commandeered guerilla raids against the British, activities which involved the film's main protagonist, 15-year-old Adam Cooper (Chad Lowe). Tommy Lee Jones, Robert Urich and Susan Blakely co-star in this Hallmark Hall of Fame presentation, originally telecast April 24, 1988.
Rating:
NR
Genre:
, ,
Directed By:
Written By:
In Theaters:
On DVD:
Runtime:
Studio:
Samuel Goldwyn Company
Critic Reviews for April Morning
There are no critic reviews yet for April Morning. Keep checking Rotten Tomatoes for updates!
Audience Reviews for April Morning
This movie shows an acurate depiction of what happened during the battles of Lexington and Concord acording to a minutemans point of view.
STCENTERPRISE .
[color=deepskyblue] I got an A on my math test!! The first time in 3 years!! wow I'm happy. Now I can shove it in my math teachers face last year. And I got a B on my science test but thats ok because I got like a 98 in the class so thats pretty good. Other than that my day was boring and I got gay homework on Drugs and crap. God I hate health. We learn the same stuff every year.. I mean come DRUGS ARE BAD WE KNOW!!! [/color] [color=deepskyblue][/color] [left][color=deepskyblue] Today we watched April Morning which is the too the book "April Morning" by Howard Fast. That movie is freaking hilarious even though they didnt intend it to be. Its suppose to take place during the battle of Lexington and Concord and its really funny because when they people get shot and stabbed its so dramatic. It takes them 5 minutes to die and the main character Adam, has his father (Tommy Lee Jones) shot from a redcoat and when he cries it sounded like he was having an orgamsim. His girlfriend Ruth looked like a freaking pig.. it was so funny cuz me and my friend would walk around with pig noses and be like "I love you Adam" to this kid named Adam in my class. They also left out a main character named Levi who is Adam's brother and it totally changes the whole story. The book is so much better and I'm not a big fan of American History novels but this one is good.[/color][/left] [left][color=deepskyblue][/color] [/left] [left][color=deepskyblue][img]http://images.rottentomatoes.com/images/movie/coverv/69/131269.jpg[/img] [img]http://images.amazon.com/images/P/0553273221.01._PE_PIdp-schmoo2,TopRight,7,-[/img][img]http://www.teachersfirst.com/share/bookpix/0553273221.01.MZZZZZZZ.jpg[/img][/color][/left] [left][color=deepskyblue][/color] [/left] [left][color=deepskyblue][/color] [/left] [left] [/left] [left][size=6][color=pink]*Picture of the Day*[/color][/size][/left] [left] [/left] [left][img]http://media3.funnyjunk.com/pictures/home_alone.jpg[/img][/left] [left] [/left] LOL!
Ashley ...
April Morning Quotes
There are no approved quotes yet for this movie.
Discussion Forum
Discuss April Morning on our Movie forum!