Aranyer Din Ratri (Days and Nights in the Forest)
(2003)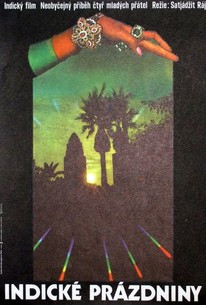 Movie Info
Days and Nights in the Forest was initially released in India as Aranyer din Ratri. The loose-hinged plot concerns four bachelors who go on holiday in the forest. While enjoying a break from the hurlyburly of city life, each man undergoes profound character developments and transformations. Also figuring in the proceedings is a group of humble forest dwellers, who prove not to be the rubes and rustics whom the bachelors assume them to be. Filmmaker Sayajit Ray retains the intense humanism of his earlier works with a tighter grasp on characterization and technique. His editing is not as revolutionary as before, but this works in the film's favor. While most of the film is pleasant enough on surface, Ray's disillusionment with the state of affairs in Indian society of the 1970s suffuses every frame. Days and Nights in the Forest earned a best picture nomination at the 1970 Berlin Film Festival. ~ Hal Erickson, Rovi
Critic Reviews for Aranyer Din Ratri (Days and Nights in the Forest)
Audience Reviews for Aranyer Din Ratri (Days and Nights in the Forest)
½
a lyrical and lovely film that certainly echoes renoir's partie de campagne. four young men leave their middle class lives to spend several days in the indian countryside and come away changed by the experience. i also saw parallels to wes anderson's darjeeling limited. i'd be willing to bet he's seen this too. very funny, maybe in part due to the incomplete subtitles on the version i saw. and is this some kind of polish poster? :/ ray deserves better
Stella Dallas
Super Reviewer
My first Satyajit Ray movie and still my favourite of the handful of his films I've seen. I'm going to struggle to write about this one, I can tell, because I don't think I can adequately explain why I find such an apparently simple movie so uniquely profound. In terms of plot, there's nothing to it; it's just about four well-to-do, westernised friends from Calcutta, who spend a few days in the country to help one of their number, a celebrated cricketer, get over being jilted by his girlfriend. Snotty and self-important to begin with, the men are improved over the course of the film, to greater and lesser degrees, by their surroundings and experiences. The miraculous thing about Ray's direction is that, not only does he manage to turn the forest and countryside into an enchanted realm, where fundamental improvements of character seem entirely justified, even inevitable, he somehow manages to make the viewer feel changed for the better, too, by the experience of watching his film. It's one of those very rare movies that, for a short time at least, makes the real word feel like a more magical place after you've seen it. Sharmila Tagore is very memorable as the elegant, enigmatic and supremely intelligent object of one of the men's affection.
Another great film by Ray about a group of four middle class men from Calcutta who go on holiday and meet a group of women. A classic which hasn't dated at all.
Aranyer Din Ratri (Days and Nights in the Forest) Quotes
There are no approved quotes yet for this movie.