As Três Marias
(2002)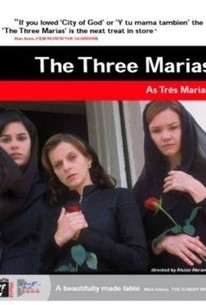 Movie Info
Brazilian filmmaker Aluizio Abranches directs the revenge drama The Three Marias, heavily influenced by religious doctrines and Greek tragedies. Bitter matriarch Filomena Capodocio (Marieta Severo) carries out a vendetta against her ex-fiancé, Firmino (Carlos Vereza), who is responsible for the brutal murder of her husband and two sons. Filomena gathers her three daughters together and instructs them to hire individual hitmen to murder Firmino and his two sons. The oldest daughter, Maria Francisca (Julia Lemmertz), is ordered to recruit superstitious Ze das Cobras (Enrique Diaz). Middle daughter Maria Rosa (Maria Luiza Mendonca) tracks down Police Chief Tenorio (Tuca Andrada), who is a knife expert. Youngest daughter Maria Pia (Luiza Mariani) has the most difficult killer to acquire: the imprisoned convict Jesuino Cruz (Wagner Moura), also known as The Devil's Horse.
Critic Reviews for As Três Marias
Audience Reviews for As Três Marias
½
[font=Century Gothic]In the Brazilian film, "The Three Marias", the husband and two sons of Filomena(Marieta Severo) have just been brutally murdered. She gathers her three grown daughters, Maria Francisca(Julia Lemmertz), Maria Rosa(Maria Luisa Mendonca) and Maria Pia(Luiza Mariani), and instructs them to employ three hitmen to kill the murderers and bring their heads to her.[/font] [font=Century Gothic][/font] [font=Century Gothic]"The Three Marias" is an odd, beguiling and violent revenge flick with an interesting structure. The film uses religious symbolism to comment on misogyny in the Church, thus lending a definite feminist edge to the whole project, especially with the strong female characters.[/font]
As Três Marias Quotes
There are no approved quotes yet for this movie.