Ass Backwards
(2013)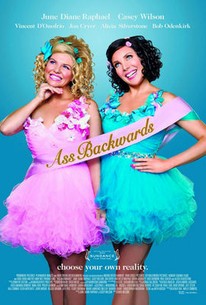 Movie Info
Kate (June Diane Raphael) and Chloe (Casey Wilson) are two childhood best friends who met when they placed dead last in their hometown beauty pageant. Now they are all grown up and living in New York City, where Chloe works as a "girl in a box" at a nightclub and Kate is a CEO....of her own one-woman egg donor "corporation". Lost in delusion, they believe they are living large until an invitation to their hometown pageant arrives and their past comes back to haunt them. Join these two loveable losers as they take an ass backwards journey home to reclaim their crown, stopping off at a women's separatist commune, an amateur strip club competition, and meeting their favorite reality TV star along the way. (c) Gravitas
News & Interviews for Ass Backwards
Critic Reviews for Ass Backwards
Audience Reviews for Ass Backwards
The first act of this movie is actually quite hilarious. After their road trip gets set into motion, it loses all focus and becomes a choir to finish. Both Raphael and Wilson can do so much better and Silverstone is wasted in a throwaway role.
kevin sommerfield
A movie has to be really bad for me to give it anything below 3-stars, but this one wins the award for one of the worst movies made in 2013! Do not waste your time or money or even your dignity in seeing this film, it is TERRIBLE!
Jim Larrison
This despicably unfunny comedy was written by its two stars -- June Diane Raphael and Casey Wilson -- who are longtime best friends in real life and who also play them in Ass Backwards. Kate (Raphael - Bride Wars) and Chloe (Casey Wilson - 'Happy Endings') live in a delusional reality of their own making as they are living it up in the big city believing themselves to have made it as highly successful adults. Kate is the CEO of her own company ... a one woman (her) egg donor service and Chloe is a "dancer" at a nightclub in which she is paid to dance in a box. Perhaps these two women are supposed to be admired because of their adversity ... but they are so delusional they are more tragic than anything else. When the girls get a letter in the mail reminding them of their childhood dream of being a beauty queen in a hometown pageant, the girls race cross-country to enter it anew as adults in hopes of showing the town what it had been missing with Kate and Chloe away in the big city. Their one-time rival Laurel (Alicia Silverstone - Clueless) wishes them a snarky good luck and the two are convinced they are winners ... not really realizing only one person can win (and it definitely will NOT be either of them ... duh). The characters the girls meet on the road are supposed to be funny ... but they are actually even more tragic. Vincent D'Onofrio (Men in Black) plays one of their fathers ... and the scene is heartbreaking instead of hilarious as they are all sad individuals who simply have NO idea. It is an uncomfortable comedy ... and an unpleasant one as well. They want us to laugh at pathetic, sad and depressing situations which truly aren't funny ... which means they have named their movie perfectly. Kate and Chloe have got nothin' on Romy and Michelle.
Thomas Williams
Ass Backwards Quotes
There are no approved quotes yet for this movie.
Discussion Forum
Discuss Ass Backwards on our Movie forum!