The Assassination Bureau
(1969)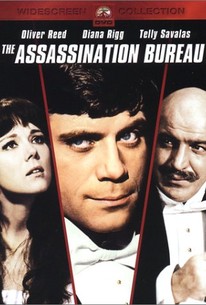 The Assassination Bureau Photos
Movie Info
The Assassination Bureau is loosely based on a turn-of-the-century yarn written by Jack London. Nellie Bly-style girl reporter Sonya Winter (Diana Rigg) tries to get the goods on shady businessman Ivan Dragomiloff (Oliver Reed). Ivan is in charge of a wide-reaching organization which, for a price, assassinates those who "need killing." As a challenge, Sonya offers to pay Ivan a huge sum if he'll instruct his minions to assassinate him; Ivan agrees, hoping that it will put a little kick in his work. Despite his profession, Ivan isn't the villain of the piece; that honor goes to evil nobleman Lord Bostwick (Telly Savalas), whose perfidy leads Sonya into joining forces with the Assassination Bureau. A wild climactic chase in a zeppelin caps this tongue-in-cheek escapade.
Critic Reviews for The Assassination Bureau
Audience Reviews for The Assassination Bureau
½
Although the film had a plot, it lacked a structure. Just Oliver Reed and Diana Rigg hopscotching across Europe.
John Tandlich
½
While I enjoyed the film, I can't help but think it could have been much more than it was. An excellent cast with a simple, but fun, plot concept should have made an all-around better film, but it's still enjoyable for what it is. And anything with Diana Rigg (especially a young Diana Rigg) is worth checking out.
Will Hoffman
½
Fun spoof of spy/action flicks that knows how to use historical events in a clever way. Reed and Savalas are excelent, and Rigg a beauty and the best eye candy a movie could have.
Tsubaki Sanjuro
Super Reviewer
The Assassination Bureau Quotes
There are no approved quotes yet for this movie.
Discussion Forum
Discuss The Assassination Bureau on our Movie forum!